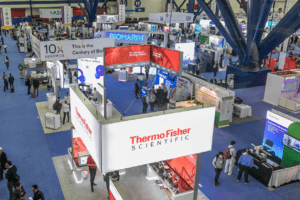 Use this page to manage your presence at ASHG 2020, from functional details like paying your invoices and updating your online profile to planning your promotional opportunities.
Log in to Exhibitor Console
Use the Exhibitor Console to:
Make payments and print receipts
Enter and edit company description and product/service keywords
Upgrade your online company listing
Register staff and scientific registration badges
Access Service Kit (coming in June)
And more!
Manage Meeting Activities & Reserve Housing
Reserve Housing – please note: fraudulent housing companies are abundant; only work through ASHG's official housing partner, onPeak.
Service Kit – order carpet, furniture, lead retrieval, internet, etc. Service Kit will be available in June 2020.
Rules & Regulations, Designate Contractors, Approval for Giveaways
Market My Booth/Events
Exhibitor Marketing Kit – coming soon
Plan My Events/Meetings
Exhibitor Alerts
Please be aware of unofficial contractors attempting to sell to ASHG exhibitors!
Housing
Be alert! ASHG members and meeting attendees are being approached by companies or visiting websites that falsely claim to be official ASHG hotel partners or offer the best rates. Many of these are scams. We strongly suggest you book through ASHG's ONLY official housing company OnPeak or another reputable travel company. Attendees and exhibitors have reported lost reservations and unrecoverable expenses from such scams and fake sites.
Some of these groups like Global Housing Corp or Convention Housing Services based in Henderson, Nevada, send solicitation emails to ASHG exhibitors. They typically offer discounted hotel reservations during the ASHG Annual Meeting. Please be advised that the only company authorized to arrange hotel reservations is OnPeak, via ASHG's Annual Meeting website. We strongly discourage any exhibitor conducting business with either company, as there have been numerous fraudulent reports.
Email Lists
The most common solicitation you will receive is the offer of an email list for pre-registered ASHG 2020 attendees. ASHG does not sell nor make available emails or mailing addresses of meeting attendees so these offers are not legitimate. Please use ASHG's official promotional opportunities to reach attendees.
Other/Miscellaneous
ASHG exhibitors should be aware of any external vendors contacting them regarding an "Expo Guide" for the 2020 Annual Meeting. Many of you may be familiar with this exhibits scam, but please be on the lookout for anyone soliciting for a free entry in an Expo Guide. Expo Guide is an organization based in Mexico that deceives people into signing up to their online expo directory at www.expo-guide.com before sending them an extortionate bill. View more information, including sample letters.
Please contact ASHG if you are unsure of the origin of any email regarding the 2020 Annual Meeting. Official vendors will have their contact information and official forms in the Service Kit, available in June.