Diversity, Equity, and Inclusion
Valuing Diverse Viewpoints, Strengthening the Field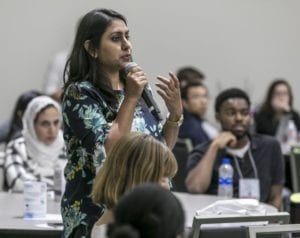 ASHG values diversity because it catalyzes productivity in the genetics and genomics scientific space, fosters the professional success of ASHG's members, increases the vitality of the organization, and enhances the societal relevance and impact of research.
An inclusive environment is one in which members feel respected by and connected to one another. It goes beyond race, gender, gender identity, and ethnicity. An inclusive environment promotes the integration of people's experiences, knowledge, and perspectives.
The following are some of the ways that the Society promotes diversity.
Genetics and Genomics Workforce Survey- FAQs
Policies & Best Practices
ASHG is continuously making efforts towards inclusion, equity, and diversity. ASHG's Board of Directors recently approved a new Diversity and Inclusion Policy Statement to achieve the Society's vision that people everywhere realize the benefits of genetics and genomics research.
Read Diversity and Inclusion Policy Statement
Scholarships & Awards
Human Genetics Scholars Initiative
The Human Genetics Scholars Initiative (HGSI) is a 5-year program designed to foster support for early-career researchers from underrepresented groups. Guided by an Advisory Group of volunteers and two external advisors with specific interest in STEM diversity.
Eight scholars are selected annually for an intensive two-year program: During those two years, they receive complimentary Annual Meeting travel support and registration, a designated mentor, and a $1,000 in enrichment funds for approved professional development activities of their choosing.
All scholars and remaining applicants are invited to participate in year-round virtual discussions and learning sessions on various topics; that curriculum is being developed by the Advisory Group.
Awards
The Society's Awards Committee is dedicated to diversity amongst awards nominees and makes a conscious effort to be inclusive. To meet the demands of the future, the genetics and genomics research sector needs a diverse and inclusive workforce, and excellence globally needs to be rewarded.
Diversity, Equity, and Inclusion Task Force
Reporting to the Board, the Diversity & Inclusion Task Force engages with all committees and will develop recommendations for ASHG's current and evolving programming to address diversity and inclusion in the genetics and genomics research workforce and in research participation.
Programs & Services
Programs, courses, and other services, such as newsletters or reduced membership fees, are provided by ASHG to support underrepresented minorities in genetics.
Career Development
ASHG has a presence at several important forums for early career researchers from under represented minority groups. The Society exhibits at the Annual Biomedical Research Conference for Minority Students (ABRCMS) and the Society for the Advancement of Chicanos/Hispanics and Native Americans in Science (SACNAS). Participation has been further expanded through the submission of symposium proposals for both events.
Diversity Events at the Annual Meeting
Diversity Reception
For celebrating, promoting, and advancing diversity, this event caters towards ongoing programs and those interested in joining them. Email kpulliam@ashg.org to learn more.
Membership
Starting in 2020, ASHG will provide pro-rated membership rates for individuals residing in Developing Countries. This further expands the international scope of ASHG's membership and makes ASHG year-round professional programming more reachable to diverse audiences.
Annual Meeting Developing Country Travel Support
ASHG launched a new effort, expanded Developing Country Travel Awards, to ensure that a diverse number of people from around the world are able to receive complimentary registration, assistance with expenses, and career advancement opportunities.
National Policy/Advocacy Agenda
ASHG initiated proactive support for several bills earlier this year addressing diversity and sexual harassment in STEM. ASHG also aligned with other scientific societies with feedback to NIH on its diversity and inclusion efforts.
Other Resources
Annual Meeting Code of Conduct
External Resources
Annual Biomedical Research Conference for Minority Students (ABRCMS)
National Human Genome Research Institute (NHGRI)
Society for the Advancement of Chicanos and Native Americans in Science (SACNAS)