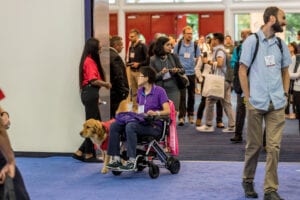 Questions? Please do not hesitate to contact meetings staff at ashgmeetings@ashg.org.
ASHG is committed to assisting attendees with disabilities and/or special needs during its in-person and virtual meetings. Every effort will be made to accommodate disabilities or special needs. Advance notice of needs must be provided to allow time to explore services and determine how best to accommodate individual needs, especially for attendees who may require sign language services. At the time of registration, please indicate your needs in the accessibility requirements section. Once your registration is complete, an ASHG staff member will be in contact to obtain additional information. If you have already registered and find yourself in need of assistance, please contact ashgmeetings@ashg.org.
Presenter Guidelines for Accessibility in Presentations
If you are a speaker who requires accommodation, please email ashgmeetings@ashg.org with a description of your needs.  To make PowerPoint presentations accessible, please adhere to the following guidelines when creating your presentations:
Use the PowerPoint template shared by ASHG
16:9 PowerPoint presentation
Use the PowerPoint default font of 44-point bold font for headings
Use 32-point font or higher for bullets
Include no more than 6 lines of text on each slide
Describe the content of graphic slides orally during their presentation
Have sufficient text descriptions of graphs and tables for presentations posted online or sent digitally
Describe slides briefly. Example: "This slide covers these three key points…", "This graph illustrates these key points."
Avoid pointing to something on the slide and using words like "this, that, these, and those," unless you indicate what "this" means. Example: "This map shows…" (not "This shows…"). People who can't see you pointing to a slide don't know what "this" used alone means.