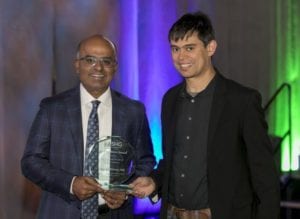 Awards nominations for 2020 will be accepted beginning on March 24, 2020.
Since 1962, ASHG has honored outstanding achievements in the field through its annual awards. Each spring, ASHG members are invited to nominate their colleagues for these prestigious awards. Nomination materials include the candidate's CV, a formal nomination letter, and an online form. Self-nominations are permitted. The ASHG Awards Committee then reviews all nomination materials and chooses awardees using a scoring rubric. Awardees are announced over the summer.
These awards recognize individuals with a diverse background of experience, ideas, and perspectives for a variety of activities, including carrying out substantial research and far-reaching scientific contributions to the field, expanding human genetics education, promoting the science of human genetics and its application for the common good, and mentoring the next generation of human genetics and genomics professionals. ASHG is committed to improving diversity and inclusion in all its forms, and encourages nominations of outstanding scientists who represent that breadth of background and experience.
In addition to monetary prizes, awardees are invited to give a 15-30-minute talk at the ASHG Annual Meeting and receive complimentary travel to and registration for the meeting.
Questions? Contact membership@ashg.org
Celebrate awardees and their achievements: