The American Society of Human Genetics envisions a world where people everywhere realize the benefits of human genetics and genomics research.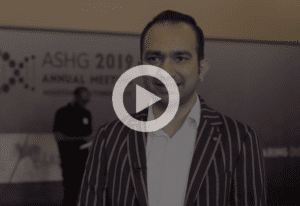 Many of humanity's greatest strengths are found in the genomes of our 7.5 billion people. As humans, we share 99.9% of our genetic heritage as a single species – we have the same evolutionary roots, many common health risks, and similar fundamental basic needs. Yet each genome is .1% different, informed by a rich history of migration and interactions over millenia, our own life experiences, and chance. These differences may inform unique risks and resiliencies, strengths and challenges.
Understanding these profound genetic commonalities and differences is among science's enduring grand challenges and we have made enormous strides, with more to discover. Our research offers a great hope to help understand ourselves, and decipher and treat our biggest health challenges.
ASHG is a global interdisciplinary community of 8,000 researchers who investigate fundamental working of genes and genomic variation, and who translate new genetic knowledge to propel biomedical research, improve human health, and understand our common ancestral origins.
We advocate for the benefits of research to serve all people, and we help educate the public about the wonders of the genome and how their genes can influence health and disease. Profoundly aware of the impact of genetic knowledge, we commit to engage our members about responsible use in research and work in broader coalition to address how growing genomic information can challenge or serve society.
By understanding the genome, we contribute our knowledge and values to improve the future for all people and celebrate both our diversity and unity as a single humanity.