Advertising & Sponsorships
We are excited to continue providing a platform to showcase your cutting-edge tools and resources to our robust scientific community. Invest in your ASHG presence and stand out from the crowd with these exclusive opportunities at ASHG 2022. Exhibitors receive discounted rates and preferred scheduling.
Onsite Advertising and Sponsorship Opportunities
Onsite advertising and sponsorship offerings are under development with our LA Convention Center and Freeman partners and will be available in mid-spring.
Digital Advertising with ASHG
An exhibitor-exclusive offer, ASHG provides banner advertising opportunities in emails sent to ASHG attendees with announcements and important reminders, such as:
Know Before You Go – this highly revisited email means lots of repeat views of your ad!
Badge collection QR code
Preview emails of industry focused sessions and activities in the Exhibit & Poster Hall
Daily Digest emails that highlight the day's upcoming events
Post-meeting wrap-up
Please visit the Sponsorship Gallery for the full list and pricing (available in mid-spring).
Digital Advertising with TriStar Event Media:
Mobile App and Ad Retargeting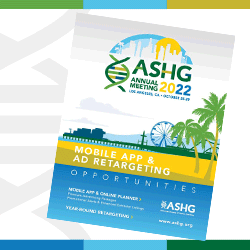 We are proud to collaborate with TriStar Event Media as our exclusive media partner to offer advertising opportunities on our official online planner/schedule and our mobile app, as well as ad retargeting to reach the ASHG audience year-round. More than 80% of attendees download the app on average!
Banner ads and home screen ads seen every time an attendee opens the page or app
Order push notifications timed to your sessions
Enhanced exhibitor listings available
Robust ad retargeting with customized analytics dashboard – push your reach beyond the meeting!
Contact Melanie Holt with TriStar to start planning your marketing outreach today!
Exhibitor Meeting Rooms
ASHG is pleased to offer exhibitor-only access to private meeting rooms at our Annual Meetings to provide you with a separate space away from the exhibit hall, ideal for catered sales pitches and other business meetings while staying close to the action. This year's exhibitor meeting rooms sit in the 300 Rooms hall of the Los Angeles Convention Center, with windows in most rooms overlooking the exhibit hall, and are available as single day or full-week rentals. Download the exhibitor prospectus for pricing.
Be Aware of Scams for Attendee Lists
Be alert! ASHG exhibitors are being approached by companies or visiting websites that falsely claim to offer the official attendee email list for ASHG 2022. ASHG does not sell, rent, or share contact/lead lists of members or meeting attendees. None of these companies are legitimate, and any solicitations for ASHG mailing lists are scams and are in no way endorsed, promoted, or protected by ASHG. Please reach out to exhibits@ashg.org to report suspicious contacts.
Questions on Exhibiting With ASHG?
Visit our Exhibitor FAQ or email exhibits@ashg.org.