Our Commitment to Your Safety
ASHG is committed to holding the 2022 Annual Meeting in-person in Los Angeles, October 25-29 and to providing a safe and enjoyable experience for participants. It will be a terrific opportunity to reconnect the ASHG community, explore the latest scientific advances, and engage in scientific dialogue through formal and informal networking. Recognizing that not all ASHG community members may be able to travel due to restrictions or personal health considerations, the Society will provide remote viewing for some core plenary events such as the Presidential Symposium and Presidential Address, while also providing ways to access and engage with the content after the live Los Angeles event.
The health and safety of Annual Meeting participants remains a top priority. As we prepare, ASHG  is monitoring local health trends and policies required or recommended by government, public health organizations, and the City of Los Angeles, and the Society will follow the Los Angeles County Department of Health COVID-19 regulations adhered to by the Los Angeles Convention Center.
We will continually provide updates according to health trends, including mask-wearing policies. The ASHG FAQ page will also be updated regularly. We welcome your feedback!
ASHG 2022 Policies for Participants
At this time, health protocols are as follows. Please check this page for updates.
Consistent with CDC guidance, ASHG will require up-to-date vaccination against COVID-19 for registrants, registered guests (including any minors), exhibitors, and exhibitor guests. There will be no exemptions from this policy. No religious or medical exemptions shall be permitted as allowing such exemptions could put attendees at risk.  As of March 1, 2022, up-to-date vaccination means a person has received all recommended COVID-19 vaccines, including any booster dose(s) when eligible.

Each morning, attendees will receive an email requiring their attestation regarding the status of any COVID-19 symptoms.
ASHG will engage a third-party service that will manage the verification and attestation process. Further details will be provided on the process in September.
On-site testing will be available for those who are asymptomatic and wish to test.
All attendees must upload proof of vaccination and sign an assumption of risk waiver during the registration process and must agree to test if they develop symptoms of COVID-19.
ASHG has the right to restrict convention center access to registrants, registered guests, and exhibitors to ensure that those in the center and interacting with attendees are vaccinated against COVID-19.
All policies apply to registered attendees, registered exhibit floor staff as well as contracted vendors during official convention dates/hours, to the extent permitted.
We will continue to explore contactless ways to meet and engage to support our return to an in-person event and we will provide details as we explore these safety options.
Facility Health and Safety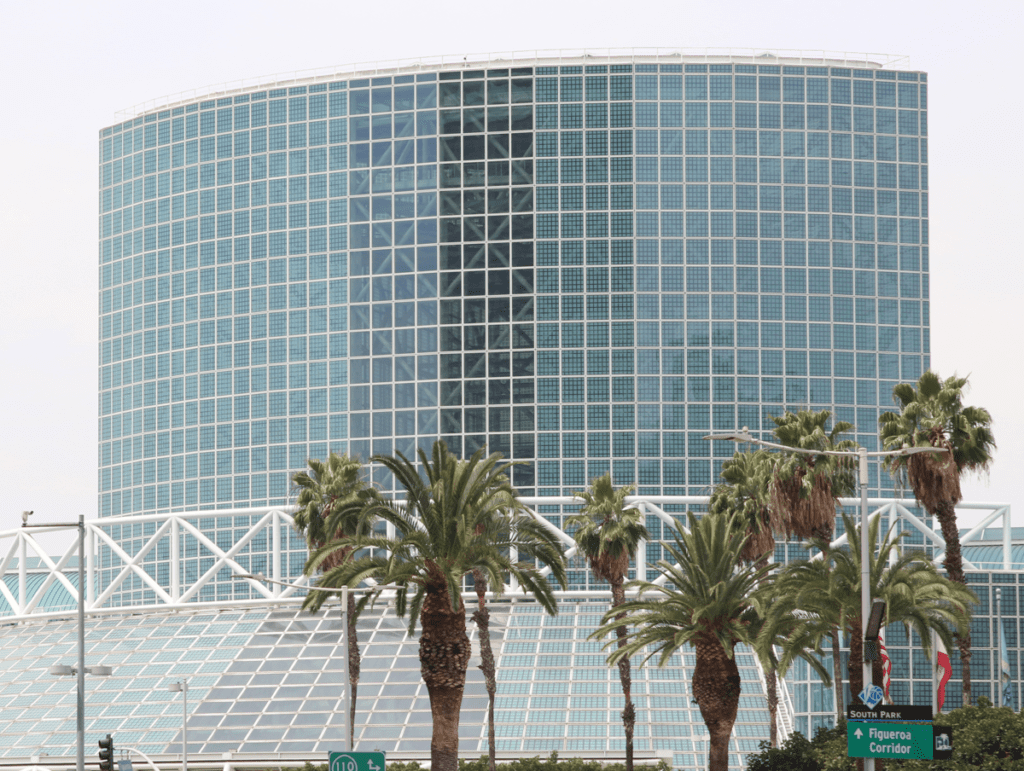 Please review the convention center and hotel safety protocols by clicking on the appropriate links below.
Los Angeles Convention Center
JW Marriott LA Live Hotel (Headquarter Hotel)
The Los Angeles Convention Center (LACC) has established objectives and program planning through the ASM Global VenueShield Program. VenueShield provides the most advanced hygienic safeguards. All policies are aligned with – and informed by – public health authorities, medical and industry experts. The LACC is committed to ensuring the cleaning products we use are EPA approved. The LACC will:
Clean to remove dust, debris, and dirt from surfaces by scrubbing, washing, and rinsing.
Sanitize to reduce the bacteria identified on the product's label on surfaces
Disinfect to destroy or inactivate both the bacteria and viruses identified on the product's label on nonporous surfaces.
Increase indoor air quality monitored by the LACC engineering team: they maximize, to the extent feasible, the quantity of outside air in our buildings and to improve indoor air quality with mechanical or natural ventilation systems
When possible, increase outside air exchange rate 2 hours prior to events and 1 hour after events conclude to increase natural air circulation.
Comply with all LA County Department of Public Health standards.
 TRAVELING FROM OVERSEAS
Please visit the CDC website for more information on testing and entry requirements regarding international travel as it varies by country. We also recommend checking with your airline. Questions about visa requirements and other entry requirements for international travelers can be found on our dedicated travel page.