The ASHG 2022 Annual Meeting features several events and opportunities of special interest to trainees and those seeking to advance their career.
Mentoring and Networking
Once on site, trainees can network with peers and connect with different career development committee members. In addition, the Trainee Social Reception, scheduled on Tuesday, October 25th, provides an opportunity to network and get advice from potential mentors at different career stages.
Career/Professional Development
In addition to the Trainee Reception, trainees will have access to register for a Self- Discovery Workshop. Led by experienced facilitator, Gary Ware who incorporates play and interactivity, this session will help those looking to transition to a new career or who are searching for joy in their current job environment.

Gary Ware is a creative yet strategic play consultant that was brought here to make your life even better than it already is. By day, Gary helps companies and professionals level up their skills, and by night he is an improv comedian. In between all of Gary's passions, his most desirous one is helping people become the best versions of themselves through fun and entertainment. 
"Behind-the-Scenes: ASHG Publications Workshop" will provide you with information to help navigate the scientific publication process. Editors from AJHG and HGG Advances will give you a behind-the-scenes view of scientific publishing, covering topics such as data sharing, open-access publication, and the ins and outs of the peer review process.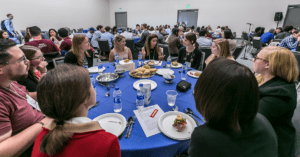 Trainees can also attend "How to Get Started Engaging Under-Represented Communities in Genetics & Genomics Research." This session will focus on how to responsibly engage under-represented communities in research studies. The goal of the session is to give researchers actionable information and guidance on how to get started establishing collaborative research partnerships with communities.
When registering, you can add these ticketed event to your cart before checkout. If you are already registered, visit the registration resource center to add these events to your registration.
Scientific Skill-Building
Every year, ASHG offers a slate of interactive workshops designed to help attendees master new software, work through analyses, and share their expertise. Each ticketed workshop requires advance registration through the meeting registration process.
Focus on Diversity
To help build a culturally diverse genetics workforce, the ASHG Diversity, Equity, and Inclusion Reception, Wednesday, October 26, aims to mentor trainees from underrepresented minority groups and share information on training and career opportunities in genetics and genomics.
Check back for details on additional events and new initiatives.