ASHG is excited to welcome attendees back in-person to Los Angeles for ASHG's 2022 Annual Meeting, October 25-29. ASHG 2022 will be an unmatched opportunity to reunite and reconnect with your colleagues in a warm, diverse, and welcoming city.
Registration to the ASHG Annual Meeting gives you access to thousands of presentations on groundbreaking science as well as engaging networking opportunities that will allow you to get valuable feedback on your research and grow your network in the human genetics and genomics community. With over 6,000 expected attendees, the ASHG 2022 Annual Meeting is the place to be to experience the great lineup of in-person scientific sessions.
Registration rates by member category will be available in May. Members can expect to enjoy significantly discounted rates and even deeper discounts for early-career, trainee, and Resource-Limited Country scientists. The ASHG community is a diverse, global community that engages and welcomes diverse voices and alliances among scientists of all nationalities.
As part of the fee to register, you will get to enjoy multiple days of great content including:
Plenary talks (abstract-driven)
Platform talks (abstract-driven)
Invited sessions (member proposed sessions)
Poster talks and poster sessions (abstract-driven)
Special sessions such as the Presidential Symposium, Presidential Address and more!
Opportunities for collaboration with an interdisciplinary network of emerging and leading scientists
Industry-driven technology solutions
CMEs and CEUs available

ASHG offers continuing education (CE) credits for CME and CEUs (NSGC and PACE). A list of approved sessions and the number of credits available will be announced in August. You are required to register for the meeting and pay a separate fee to apply for CE credits.

Plus: workshops, career development events, and plenty of networking opportunities.
Registration does not include meals. 
Registration rates are outlined below. ASHG members receive an additional discount, so join or renew your ASHG membership before processing your registration! ASHG membership runs January through December — the sooner you join, the sooner you start enjoying the benefits. 
All fees are shown in U.S. dollars.
EARLY

(Through Aug. 30)

ADVANCE

(Aug. 31 – Oct. 18)

LATE

(Starting Oct. 19)

ASHG Member
$535
$655
$775
ASHG Student/Trainee Member
$240
$365
$390
ASHG Emeritus Member
$246
$246
$246
Nonmember
$895
$1,015
$1,135
Nonmember (Student/Trainee)
$520
$645
$680
Resource-Limited Country Member
(Category 1 – Low Income)
$0
$0
$0
Resource-Limited Country Member
(Category 2 – Lower-Middle Income)
$295
$295
$295
Resource-Limited Country Trainee Member
(Category 1 – Low Income)
$0
$0
$0
Resource-Limited Country Trainee Member
(Category 2 – Lower-Middle Income)
$225
$295
$295
One-Day Student/Trainee
(Member & Nonmember)
$125
$125
$125
One-Day Non-Trainee
(Member & Nonmember)
$475
$475
$475
*Must be a 2022 member to receive resource-limited rates. Categories 1 and 2 are defined by the World Bank.
Guest Registration
Individuals accompanied by registered attendees may register as guests in October. The fee includes admission Exhibit Hall and to the Friday night closing reception but does not include access to scientific sessions or ticketed events. ASHG will not permit unregistered guests, including children in the convention center, including the hallways and Exhibit & Poster Hall and session rooms. Thank you for your understanding.
Print your receipt
Resend a confirmation email
Add continuing education credits to your registration
Purchase ticketed events
Visa Letter
Update contact information
Download Certificate of Attendance and Certificate of Participation (available beginning October 25)
Press Registration
Press registration is now open. Before registering, please review our Press Guidelines for eligibility requirements and other key details.
ASHG encourages press to register in advance. In the weeks leading up to the meeting, press who have registered for the meeting will receive access to embargoed press releases and other related materials.
Questions? Email Kara Flynn, Senior Director, Public Engagement, Communications, and Marketing, at press@ashg.org.
Registration Hours and Badges
Upon arrival at the meeting, visit a badge pick-up counter to print your badge by scanning the bar code or entering the six-digit badge number found in your email receipt. This information is also available online in the Registration Resource Center. Badges will not be mailed. You will receive an email receipt in early October that has a barcode with instructions on where to pick-up your badge and registration materials. 
Badges must be worn at all times. Should you lose your badge, replacement badges will be available for purchase in the on-site registration areas.
Registration Hours
Tuesday, October 25
9:00 am – 5:00 pm
Wednesday, October 26
6:30 am – 6:00 pm
Thursday, October 27
7:30 am – 6:00 pm
Friday, October 28
7:30 am – 5:30 pm
Payments
Registration payments must be made by credit card (American Express, MasterCard, Discover, or Visa only). We do not process fax registrations, checks, purchase orders, or wire transfers. If the standard registration form does not match your institution's payment requirements, please contact ASHG@xpressreg.net.
Others may register on behalf of a registrant if they can provide the necessary information and payment. You must log into the ASHG website to register. To access ASHG member rates, make sure you are entering the same email address as used in the registrant's membership profile.
Meeting registration cannot be transferred to another person.
ASHG Tax ID: 52-1419397.
Travel Awards & Cost Saving Suggestions: For information on travel awards & cost saving suggestions, please visit our FAQs.
Awards For trainees: ASHG offers the Charles J. Epstein Trainee Awards for Excellence in Human Genetics Research awards for predoctoral and postdoctoral trainees. These merit-based awards recognize highly competitive abstracts submitted and presented at the ASHG Annual Meeting.
Awards for resource-limited countries: ASHG provides up to 10 awards to individuals living in countries categorized by the World Bank as having low-income or lower-middle-income economies (see the list of eligible countries). Award recipients receive up to $3,000 (USD) for meeting-related travel expenses, complimentary meeting registration, and complimentary membership. For more information on ASHG's Developing Country Awards, please visit our website.
Human Genetic Scholars Initiative: ASHG has the Human Genetics Scholars Initiative, which is a 2-year, year-round mentorship program for individuals from underrepresented groups. Applications are now open with a deadline of June 17, 2022. You must submit an abstract by June 9, 2022 to be considered.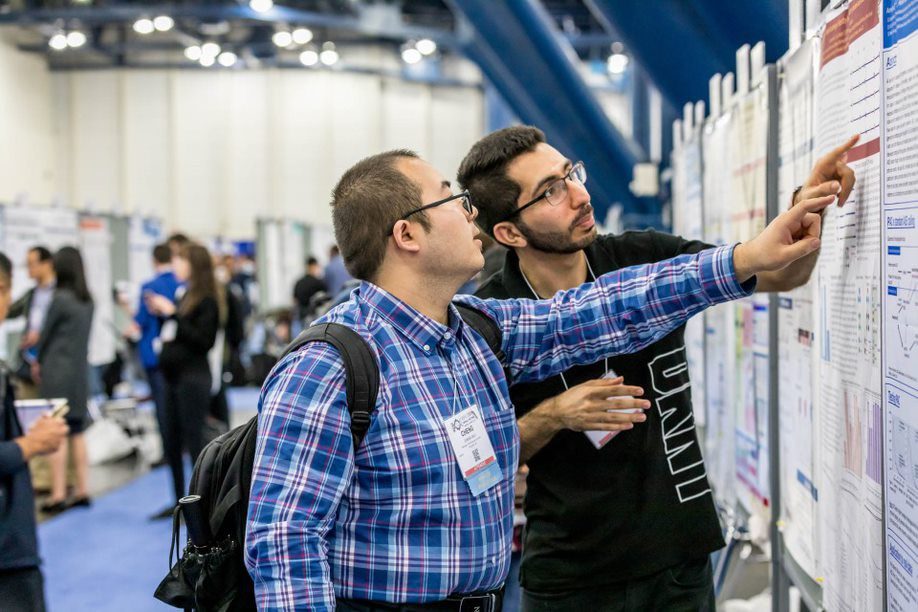 Accessibility: ASHG is committed to providing access for all attendees and speakers. Please indicate your needs in the accessibility requirements section of the registration form. Once your registration is complete, an ASHG staff member will be in contact to obtain additional information. If you have already registered and find yourself in need of assistance, contact meetings@ashg.org. Advance notice of needs must be provided (no later than September 15) to allow time to explore accommodations, especially for attendees who may require sign language services or other services.
Cancellation: Cancellation requests must be received by email to ASHG@xpressreg.net no later than October 11, 2022, for a full refund minus a $75 administrative processing fee. No refunds will be processed after this date. ASHG will not provide a refund if an attendee is unable to attend due to travel carrier cancellations or other unforeseen incidents beyond ASHG's control.
Health and Safety: Recognizing important health and safety considerations, ASHG is actively monitoring COVID-19 policies. The event will include the latest appropriate protocols to create a safe environment. This will include verification of an up-to-date vaccination. Review the health and safety page for more information.

Questions? Email meetings@ashg.org