Manage My Booth
Log in to the ASHG Exhibitor Console
View your booth space assignment
Make payments and print receipts
Enter and edit company description and product/service keywords
Access Exhibitor Services Manual (ESM) – available in June
Purchase promotional opportunities
And more!
Manage Registrations and Housing
Reserve Housing

Exhibitors who wish to hold a group block of 10 or more rooms must contract with the official ASHG hotels directly. See the Hotel Information and Reservations page for details.
When exhibitors and attendees book at official ASHG hotels, it gives ASHG negotiating power in future cities for better rates from convention center rental to hotel rates. Your loyalty and cooperation is greatly appreciated!

Register exhibit staff and scientific badges (registration opens in early May)
Important Registration Update for ASHG 2022

To better provide for the health and safety of ASHG's attendees, exhibitors, staff, and volunteers, admittance to the Los Angeles Convention Center is restricted to guests who register in advance and meet the health and safety criteria outlined on our Health & Safety page. Anyone who has not registered for the Annual Meeting in advance will not be able to attend ASHG events held at the Los Angeles Convention Center, including speakers and guests who will only be attending specific industry events or visiting the exhibit hall. Exhibitors wishing to invite guests to visit your booth or attend your industry events at the convention center may register them using the complimentary scientific or exhibitor guest badges included with your booth rental; additional exhibitor guest badges will available for purchase through our registration portal once your allotment is used. (Pricing and more information regarding the guest registration and health verification process will be available in summer 2022.) Exhibitor badges do not permit entry into scientific sessions. All attendees, exhibitors, and guests must be registered with their own badge, and badges may not be shared, altered, or exchanged.
Manage My Display
Freeman Exhibitor Service Manual (ESM) – order carpet, furniture, lead retrieval, internet, etc. (available in June)
Designate Exhibitor Appointed Contractors (EACs) for display labor
Submit Booth Giveaways and Activities
Exclusive Services: The following services are provided exclusively by the vendors noted below at the Los Angeles Convention Center. No outside contractor may provide these services at the convention center, and violations are subject to fines and/or removal of the offending materials, services, or staff.

Catering / Food & Beverage: Taste Los Angeles, Powered by Levy
Electrical and Utilities (compressed air, water/drainage, etc.): Freeman
Rigging (Exhibit Hall): Freeman
Rigging (all other halls and rooms): Encore Global
TV and Telecommunications: Smart City (internet, wifi, cable TV, etc.)
Market My Booth
Exhibitor Marketing Kit (coming soon)
ASHG 2022 Media Kit for year-round advertising opportunities (coming soon)
Plan My Events/Meetings
Other Important Information
Exhibitor Alerts
Please be aware of unofficial contractors attempting to sell to ASHG exhibitors. New deceptive tactics are always developing, so use your best judgment and reach out to exhibits@ashg.org with any questions or to report suspicious contacts.
Housing
Too often, unsanctioned groups, such as Global Housing Corp or Convention Housing Services based in Henderson, Nevada, send solicitation emails to ASHG exhibitors. They typically offer discounted hotel reservations during the ASHG Annual Meeting. Please be advised that all exhibitors and attendees must book their rooms and room blocks directly with the official hotels listed on the ASHG website. We strongly discourage any exhibitor conducting business with either company, as there have been numerous fraudulent reports.
View hotel information and make your reservations with ASHG's official hotels.
Email Lists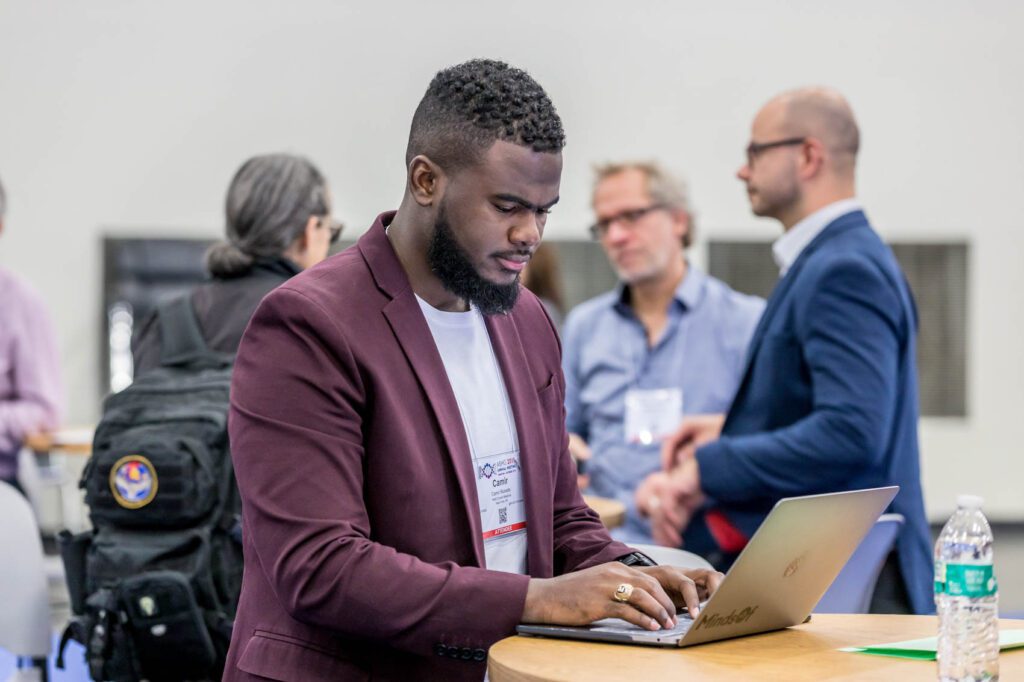 The most common solicitation you will receive is the offer of an email list for pre-registered ASHG 2022 attendees. ASHG does not sell, rent, or share contact/lead lists of members or meeting attendees. None of these companies are legitimate, and any solicitations for ASHG mailing lists are scams and are in no way endorsed, promoted, or protected by ASHG. Contact exhibits@ashg.org for advertising and sponsorship options to reach ASHG meeting attendees.
Other
ASHG exhibitors should be aware of any external vendors contacting them regarding an "Expo Guide" for the ASHG Annual Meeting. Many of you may be familiar with this exhibits scam, but please be on the look out for anyone soliciting for a free entry in an Expo Guide. Expo Guide is an organization based in Mexico that deceives people into signing up to their online expo directory at www.expo-guide.com before sending them an extortionate bill. View more information, including sample letters.
Contact Us
Please contact ASHG if you are unsure of the origin of any email regarding the 2022 Annual Meeting. Official vendors will have their contact information and official forms in the Freeman Exhibitor Service Manual (ESM), available in June.
Questions on Exhibiting With ASHG?
Visit our Exhibitor FAQ or email exhibits@ashg.org.