Visa and Passports
Your meeting registration confirmation will include a link to generate a customized letter of invitation. See the Letters of Invitation section below for details.
The U.S. Department of Homeland Security's (DHS) Electronic System for Travel Authorization (ESTA) is a free, automated system used to determine the eligibility of visitors to travel to the United States without a visa, under the Visa Waiver Program. It collects the same information as the paper I-94W form you usually complete en route to the United States. DHS recommends that travelers submit an ESTA application as soon as they begin travel plans. ESTA applications may be submitted at any time prior to travel. An ESTA authorization generally will be valid for up to two years. Unsure if you need to apply? See frequently asked questions for guidance.
Visas
ASHG 2022 attendees are encouraged to apply for visas as early as possible – at least 4 to 6 months before the visa is needed. Do not wait until your abstract is accepted to apply. Please check with your local U.S. consulate or embassy to find out the earliest that you may apply for a visa. For further information, visit the State Department website.
Application Tips
Start early: Register for ASHG 2022 as soon as possible so that your customized letter of invitation can be generated.
Apply for your visa four (4) to six (6) months before traveling. You should provide your entire trip itinerary, including travel to any countries other than the United States, at the time of visa application.
If completing your travel plans is contingent upon early approval of the visa application, specify this at the time of the application.
Provide proof of scientific status (e.g., proof that you submitted an abstract for the meeting). Do not wait until you receive notification that your abstract submission has been accepted before applying for a visa. If your abstract presents new information and follows the rules and guidelines, it will most likely be accepted and programmed.
Bring your English-language resume or CV with a list of published articles and research topics to the U.S. consulate/embassy interview.
Provide evidence that you intend to return to your country of residence. This includes such information as:

family ties in current country of residence
property ownership
bank account
employment contract or statement from an employer showing that your position will continue after the dates of travel

Requirements vary by passport-issuing country and citizenship (not merely residency). Some consulates may have backlogs in scheduling visa interviews, so you should first contact your local consulate to determine what the wait times are for visa interviews. Check the current list of visa interview and processing wait times by country.
Visa Problems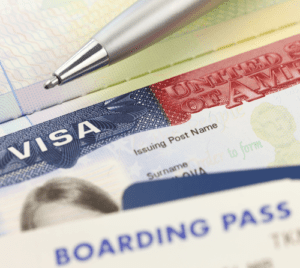 If your visa has not received approval at least two weeks prior to the start date of the Annual Meeting, you should complete the Visa online questionnaire. Eligibility requirements are listed before you begin. Please note that individuals who have applied for dependent visas (such as F2 and J2) should not complete this questionnaire.
Visa Waiver Program (VWP)
Some foreign meeting participants may not need visas if they are citizens of any of the 40 countries on the Visa Waiver Program. As of April 1, 2016, you must have an e-Passport to use the VWP. Without an e-Passport, you will be required to apply for a visa. All foreign visitors (including VWP travelers) will be fingerprinted and photographed upon arrival in the U.S.
The National Academies – U.S. Visa Policy Resources
Letters of Invitation
Customized letters of invitation for visa purposes can only be issued to individuals who have submitted an abstract or to confirmed registrants (those who have paid the meeting registration fees). When you register for the meeting, you will receive a confirmation email with a link to auto-generate a customized letter of invitation. To receive a letter of invitation after submitting an abstract, please email meetings@ashg.org.
You will need this letter when applying for a visa. All attendees are urged to apply for a visa as soon as possible. Waiting until you receive your abstract confirmation (which is not available until August) will delay your visa process and may result in your visa being denied.
For security purposes, letters of invitation cannot be sent to people who have not submitted an abstract or registered. If you have questions, please email them to meetings@ashg.org, using the phrase "Letter of Invitation" in the subject line.
Health & Safety
ASHG is committed to holding the 2022 Annual Meeting in-person in Los Angeles, October 25-29 and to providing a safe and enjoyable experience for participants.
For more information on our health & safety protocols, please visit our health and safety webpage.
Travel Awards and Cost Saving Suggestions

For information on travel awards & cost saving suggestions, please visit our FAQs.
Awards For trainees: ASHG offers the Charles J. Epstein Trainee Awards for Excellence in Human Genetics Research awards for predoctoral and postdoctoral trainees. These merit-based awards recognize highly competitive abstracts submitted and presented at the ASHG Annual Meeting.
Awards for resource-limited countries: ASHG provides up to 10 awards to individuals living in countries categorized by the World Bank as having low-income or lower-middle-income economies (see the list of eligible countries). Award recipients receive up to $3,000 (USD) for meeting-related travel expenses, complimentary meeting registration, and complimentary membership. For more information on ASHG's Developing Country Awards, please visit our website.
Human Genetic Scholars Initiative: ASHG has the Human Genetics Scholars Initiative, which is a 2-year, year-round mentorship program for individuals from underrepresented groups. Applications are now open with a deadline of June 17, 2022. You must submit an abstract by June 9, 2022 to be considered.