Ancillary and Industry Events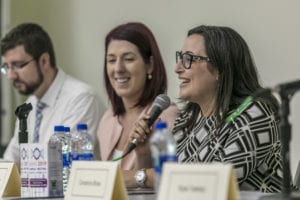 Requests are under review. Details will be provided in late July. 
Questions? ashgmeetings@ashg.org
Ancillary and industry events are encouraged at the ASHG 2020 Annual Meeting – where collaborations and discovery happen! Requests must follow the guidelines; please read all information below before you submit your application.
Application Links, Definitions, and Fees
Types of Events
Ancillary Events – These are receptions, social gatherings, or educational sessions by genetics-related organizations to be assigned at the San Diego Marriott Marquis.
Committee Meetings – These include meetings of editorial boards, committees, and consortia to be assigned at the San Diego Marriott Marquis.
Industry Education Events – These include breakfast, lunch, or evening programs with an educational component with speakers, panels, etc., organized by commercial companies. These events will be scheduled either at the Convention Center or Marriott Marquis. Fees vary.
Satellite Symposia – These breakfast or evening events contain an educational component offering CME credits and will be assigned at the San Diego Marriott Marquis. Fees vary.
Satellite Meetings – These are genetics-related organizations' meetings or educational sessions occurring before October 27 or after October 31. To link to your event on ASHG's website, please email ashgmeetings@ashg.org.
CoLab Sessions – These are 30 or 45-minute technology-focused sessions held in one of three theaters in the Exhibit & Poster Hall. View CoLab details and application.
Permitted Event Times
| Date | Time |
| --- | --- |
| Monday, October 26 | All Day/Evening Satellite Meetings |
| Tuesday, October 27 | Before 1:00 pm or after 6:15 pm |
| Wednesday, October 28 | Before 8:45 am, during the lunch period from 12:45-2:00 pm* or after 7:15 pm |
| Thursday, October 29 | Before 8:45 am, during the lunch period from 12:45-2:00 pm* or after 7:00 pm |
| Friday, October 30 | Before 8:45 am, during the lunch period from 12:45-2:00 pm* or after 7:00 pm |
| Saturday, October 31 | Before 8:30 am, or after 2:00 pm |
| Sunday, November 1 | All Day/Evening Satellite Meetings |
*No satellite symposia during lunch times Wednesday through Friday.
Guidelines
ASHG accepts no financial or organizational responsibility for events requested through this process.
Organizers must agree to pay the fees to ASHG outlined above.
Once events have been confirmed, fees are non-refundable. You will be required to agree to this when submitting your application.
After room assignments are confirmed by ASHG (in July), organizers are responsible for working directly with the facility (hotel or convention center) to arrange for catering, audio visual equipment, labor, and other charges. Contact details will be provided in the confirmation letter. These additional charges are the sole responsibility of the organizer and are in addition to the fees incurred by ASHG.
Hotels may charge for use of meeting rooms. Room rental and other applicable services will be handled individually, with a separate contract issued by the hotel for each event. Organizers should review event contracts carefully before signing.
Organizers are responsible for reconfirming needs with the facility and arranging for direct billing.
Organizers are required to adhere to ASHG's Code of Conduct policy and should communicate this with attendees invited to their events.
ASHG and the facilities have the right to move an event if ASHG or the hotel determines the space assigned is not best suited for the event.
Meeting space is limited and requests for space in ASHG-controlled meeting facilities (such as the convention center) will be assigned on availability of space based on organizers requirements after ASHG's needs are met.
ASHG reserves the right to reject applications based on requests that we are unable to accommodate or violation of these guidelines, including breach of policies outlined below.
It is expected that all organizers behave professionally and be mindful that other industry events are in the proximity, including competitors may be assigned space near you.
For industry education sessions, organizing companies have the right to deny access to attendees if those attendees are from competing/similar companies. These events are for ASHG 2020 registered attendees, not for sales/marketing representatives from other companies.
Exhibiting companies violating these rules will receive a penalty for future participation.
Assignment of Space
Rooms are assigned on a space-available basis. Assignments will be made according to the priority list below in a manner that will best accommodate as many events as possible.
Official ASHG-related events
Events that relate to scientific scholarship, conduct of research, delivery of services, and/or public information related to science
All other requests, such as exhibitor workshops and committee meetings
Breach of Policy
Organizers of ancillary and industry events must adhere to the rules and guidelines outlined above. In order to complete the event application, organizers must check a box stating that they have read and agree to the rules and guidelines. Failure to adhere to the policy may result in any or all of the following:
Cancellation of event.
Refusal to allow the company or group to list the information on ASHG's schedule.
Refusal to allow organizers the opportunity to hold an event in the future.
ASHG reserves the right to refuse to review any application that does not meet the criteria set forth in these guidelines. In addition, ancillary and industry events approved by ASHG shall in no way state or imply endorsement of or support by ASHG for the event, organizer, products, or services discussed in announcements or advertising, in any signage, or during the presentations.
Event Listing
ASHG does not list committee and business meetings on the schedule; organizers will be responsible for informing attendees about the event(s).
ASHG will include the following information for receptions, social gatherings, and industry education events on the schedule:

Title of event (length must be no more than 75 characters, including spaces, for Ancillary Events and Satellite Events; and no more than 200 characters, including spaces, for Industry Education Events, Satellite Symposia, and CoLabs)
Date and time of event
Location and room name/number
Hyperlink, if provided
Promotion
ASHG encourages promotion of your event to ensure you attract your audience. Click here for promotional opportunities or contact exhibits@ashg.org. Organizers may place ONE sign directly outside of their meeting room and place multiple signs inside the room. Event organizers are not permitted to:
Display signs or distribute event literature in any public areas, hallways, or lobbies of the convention center or hotels. Door drops at hotels are not permitted.
Use props or gimmicks in public areas or lobbies to attract event attendees.
Use the ASHG society or meeting logo without receiving permission in writing from press@ashg.org. View the Logo Guidelines for details.