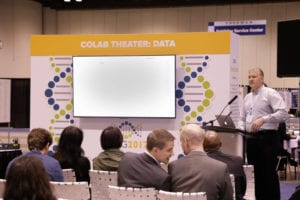 The most exciting new feature of the show floor is the addition of Networking Lounges and Educational Theaters. They are located next to each other in three of four quadrants in the Exhibit Hall and called CoLaboratories: built especially for collaboration. Industry wants to share its most recent discoveries and collaborate with the rest of the genetics community–don't miss these opportunities to share your stuff! View the 2018 CoLab sessions.
Each CoLaboratory, CoLab for short, will be categorized by high-level themes so attendees can easily find the kind of session that appeals to them:
Clinical: features programming regarding clinical applications in research or for physicians, programming geared towards genetic counselors, and any topics related to diseases and treatments.
Laboratory: covers anything related to the laboratory: equipment, sequencing, technology, workflows, etc.
Data: focuses on big data and software applications for genetics professionals.
Other: Professional development, how to break into working in industry, etc.
Sign Up for a CoLab
CoLab Session
ASHG invites exhibitors to program 30-minute mini-sessions. Several slots are available daily in each theater. Exhibitors could present:
Product theaters
Patient perspectives
Best practices
Q&A with a rock-star scientist on your staff or someone affiliated with you
Panel to discuss the future of industry
The sky is the limit in these sessions; make them memorable! Want to talk through ideas? Let's set up a time to talk!
Exhibitor Fee: $4,000 | Non-exhibitor fee: $6,000
CoLab Lunchtime Slot
Lunchtime slots are exclusive during the daily lunch period, and these slots are also longer, at 45 minutes.
Exhibitor Fee: $5,000 * Subject to change
What's Included
Each CoLab theater is a turnkey education solution–no need to order special equipment or setup. Your speaker can walk up to the podium, plug in, and present.
70" screen
data projector with laptop connection *
microphone – lav and podium for speaker
A/V tech
seating for 60 attendees
Remember you only have 30 minutes, so don't be too reliant on slides. Note that wifi is not available in the theater.
CoLab Theater Schedule 2019
Wednesday
4:00 pm-4:30 pm (15 min. break + overlap with platforms) – 2 slots
Thursday
1:45 pm-2:15 pm (end of lunch, beginning of posters in Hall) – 1 slot
3:15 pm-3:45 pm (poster sessions in hall) – 2 slots
4:00 pm-4:15 pm (15 min. break + overlap with platforms) – 2 slots
Friday
10 am-10:30 am (break from sessions, coffee in Exhibit & Poster Hall) – 2 slots
12:45 pm-1:30 pm (lunchtime slot) – 2 slots
1:45 pm-2:15 pm (end of lunch, beginning of posters in Hall) – 2 slots
2:30 pm-3:00 pm (poster sessions in Hall) – 2 slots
How are CoLabs Promoted?
Online Schedule of Events on meeting website
Official ASHG 2019 Mobile App
One promotional email highlighting the theaters and all sessions within, sent by ASHG, in September to pre-registered attendees
Signage in Exhibit Hall
Assignment & Payment
ASHG will contact you once your application is submitted to confirm receipt. ASHG will assign CoLab session slots in early June and organizers will get confirmation with time slot and invoice. Once your CoLab has been accepted, payment will be due two weeks after that date.
Sign Up for a CoLab
CoLabs Cancellation Schedule
| | |
| --- | --- |
| June 7 | No fee |
| July 1 | 50% of CoLab fee penalty |
| July 28 | 100% penalty and session may be in print |
2019 Terms and Conditions
CoLab session fees are due within two weeks of assignment. ASHG will supply all details for payment at time of assignment. If fees are not received within two weeks of assignment, the session will be cancelled.
CoLab sessions are available on a first-come, first-served basis. ASHG must approve topics and speakers for each session. ASHG cannot guarantee topic exclusivity but will work with the sponsor on the best time slot for their session. ASHG reserves the right to reject proposed sessions in part or in whole, with or without giving cause.
CoLab sponsors are not permitted to present any CME/CE-accredited education or activity.
Admission to CoLabs will be by official ASHG 2019 scientific or exhibitor badges obtained upon registration. CoLab speakers must be badged as scientific or exhibitor attendees. Any logistics related to the sponsor's speakers (housing, registration, transportation, etc.) will be handled by sponsor; ASHG will not make any arrangements.
Sessions may not run more than five minutes over the allotted time; if they do, ASHG will stop the presentation at that time.
CoLab sponsors agree to comply with all ASHG 2019 exhibitor and exhibit hall rules, regulations, terms, and conditions found at www.ashg.org/meetings/2019meeting/exhibits, the Exhibitor Service Kit, these CoLab guidelines, terms, and conditions. If a sponsor or any of its representatives violates these, ASHG may cancel the session with full penalty and reserves the right to limit or prohibit future CoLab session participation at future events.