A Letter from Incoming Program Committee Chair Erica Davis
Dear ASHG Members,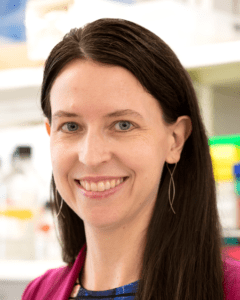 With this year rapidly coming to a close, I hope you will join me in looking forward to the next American Society of Human Genetics (ASHG) Annual Meeting in Los Angeles, California! Now is the time to plan your invited session, due January 26, and to save the dates: October 25-29. We are excited to continue providing cutting-edge scientific programming while assuring we optimize for a safe environment, paying close attention to developments on the COVID-19 pandemic.
The prospect of reuniting again safely in the year ahead is truly exciting. Although the entire community has rallied to share our science and gather as a community throughout this pandemic, we've also learned how much we value meeting, connecting and sharing science in person.
As we plan for L.A., reconnecting will be a theme throughout.  Great science is always at the core of our activities, yet we'll discover and debate new findings in an unmatched venue with beautiful beaches and a wide range of dining, shopping and entertainment options — as well as average temperatures of 75 degrees and nearly 300 days of sunshine each year.  Los Angeles is the perfect reunion destination, and the Program Committee is dedicated to assembling the best possible human genetics lineup for this vibrant California venue!
Plan to join us in Los Angeles and share the possibilities. Members can already participate and are invited to submit invited session proposals before the deadline of January 26, 2022.
Sincerely,
Erica Davis, PhD
ASHG 2022 Program Committee Chair
WHEN
October 25-29, 2022
WHERE
The Los Angeles Convention Center, Los Angeles, California. Conveniently located in downtown Los Angeles within walking distance of multiple hotels
IMPORTANT DATES & DEADLINE
Invited Session proposals are due January 31, 2022 at 8 AM U.S. Eastern Time
Registration will open in April 2022
 Abstracts will open in April 2022. Deadline to submit an abstract: June 9, 2022.
EXHIBITORS
The vibrant and exciting exhibit hall will return for the 2022 in-person meeting! ASHG attracts thousands of scientists seeking solutions to power their next discovery. Enter your company information here to get on the list for more information. New exhibitor partners can register beginning February 7, 2022.