What to Expect at the ASHG 2021 meeting?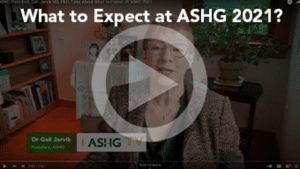 Questions? Contact:
Registration: ashg@xpressreg.net
General or Speakers/Authors: meetings@ashg.org
Invited Sessions: programs@ashg.org
Industry Partners: exhibits@ashg.org
Membership: membership@ashg.org
Miss a session or want to re-watch one later? ASHG 2021 content will be available for 90 days after the conference concludes. Simply navigate to the "on-demand" tile on the platform home page and filter for the session you are looking for.
Log in now
to rewatch your favorite session!
The virtual platform is mobile responsive allowing you to access content on any device (laptops, desktops, handheld tablets, and smartphones). The virtual platform will:
Create a one-stop place to go for all of your scientific content.
Allow for great opportunities for you to interact with fellow attendees to just say hello or share your excitement about the content.
Provide an environment where you can navigate to the content you want, anytime you want.
How to use the Online Planner
Mobile App
How to create your profile in the virtual platform
How to Apply for CME/CEUs
Know Before You Connect
What's different in 2021
How to network in the Virtual Meeting
How to engage with Industry Partners and access Lightning Talks/CoLabs
The scientific program is now finalized. Visit our online planner for complete details.  All live events are held in Eastern Daylight Time (EDT). Once the live event has occurred, it will be available to view on-demand, although please note that the schedule was set to be inclusive of as many time zones as possible.
Content types include:
Plenary Sessions: Plenary sessions showcase speakers who can inspire and energize attendees with their cutting-edge research and ideas and are programmed through abstract-driven submissions. These talks are 15-minutes in length and include cross-cutting topics.
Platform Sessions: Platform talks are quick rapid talks programmed through abstract-driven submissions. These talks are 10-minutes in length and include cross-cutting topics.
Invited Sessions: Invited sessions are developed and proposed by ASHG members around a particular topic of interest and run-in concurrent timeslots and are 90-minutes in length.
Presidential Address: ASHG President Dr. Gail Jarvik will reflect on advances in human genetics and how her own personal journey as a woman in science informs the need for better inclusion in our field and in our society. She addresses some steps that are needed to achieve ASHG's stated vision that "people everywhere realize the benefits of human genetics and genomics research."
Presidential Symposium: ASHG's strategic plan set course for the Society to be a leader in advancing diversity. The Society and the broader genetics and genomics community are making meaningful progress with a long way to go. We must continue honest dialogue about the breadth of scientific and health opportunities and needs; deeper institutional climate barriers to genetic and genomic workforce diversity; and the societal role of genetics in feeding racism. The 2021 Presidential symposium will engage multiple voices to reflect on these issues, challenging and engaging the community in ongoing dialogue and action.
Posters: Poster sessions and poster talks will be incorporated within the same platform. We have dedicated Monday, October 18 to poster engagement day where poster authors will be available at various times throughout the day to discuss their work. Visit the online planner for the schedule and poster listings.
Networking: The 2021 platform allows for great opportunities for you to interact with fellow attendees to just say hello or share your excitement about the content, offering various ways to do this including video chats, meet-ups as well as text chat forums. Visit our networking page to see what's in store at this year's meeting.
Awards: Congratulations to our 2021 recipients of the Society's seven prestigious prizes in human genetics. October 4-8 is ASHG Award Recipient Week and Acceptance Lectures, when ASHG will release the acceptance lectures of its honorees for on-demand viewing. ASHG is honored to share that the Gruber Genetics Prize will be presented to Stuart Orkin, MD. The prize will be presented on October 7, 2021, 11:00 am – 12:10 pm U.S. ET. ASHG 2021 attendees may register for the event here.
Career Development: Network with peers and mentors from academia and industry during the October 12-14 Professional Development and Industry Forum Days. Attendance is free with your meeting registration! More information on Professional Development & Industry Forum here. Remember to stop by the ASHG Careers Center/Job Boards where you can post your resume or search job openings.
Industry Sessions/CoLabs/Lightning Talks: Industry Education Sessions are special, one-hour sessions led by thought leaders on Tuesday and Wednesday at 2:30 pm. CoLab sessions are our industry-hosted talks that are typically single topic discussions or product demos for 30 minutes. The lightning talks are 15-minute industry-hosted sessions that might also be short product demos or show you results using products and services in your day-to-day work.
Ancillary & Satellite Events: These are non-ASHG sponsored events such as business meetings, receptions, industry meet-and-greets, or networking/social hours.
Set Your Schedule and Get Organized     
There are several ways to plan your schedule for the week:
Create an account using the online planner. Once built you can download it to your own personal calendar.
Use the Mobile App to build your schedule, it is available for download in Google Play and Apple app stores.
Build your schedule directly in the platform starting Thursday, October 14.
Post-Meeting
All meeting content will be available for up to 90 days following its scheduled presentation at the ASHG Virtual Meeting, Oct. 18-22, 2021.  Only registered meeting attendees will have access to the on-demand content.