ASHG 2021 will take place October 18-22 using a dynamic and interactive virtual platform, and we hope you will join your peers at the world's largest online gathering of human genetics and genomics professionals.
Check out the benefits of partnering virtually with us for ASHG 2021.
Our standard registration deadline for Industry Partners is August 15!
Sign up now before prices go up!
Check back regularly for updates, our offerings are always being reviewed and improved!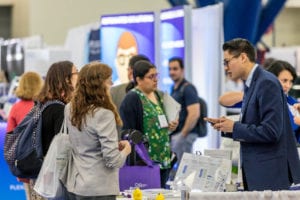 To best meet the health and safety needs of our guests, speakers, and industry partners, ASHG will hold our 2021 Annual Meeting in a fully virtual format. The full announcement from ASHG President Gail Jarvik, MD, PhD, can be seen here.
ASHG is proud to partner with industry experts and newcomers alike who continually help us create the best possible experience for our attendees!
A la carte advertising ordering will be available through A2Z by early July; please check back for updates.
Click here to be added to our database and mailing list.
Questions on partnering virtually?
Visit our Industry Partner FAQ or email exhibits@ashg.org.