Become an Industry Partner
ASHG invites you to partner with us for another vibrant Annual Meeting with the very latest scientific discoveries, unparalleled discussions, and the world's most esteemed professionals in the fast-growing field of genetics and genomics.
ASHG is the preeminent genetics and genomics meeting of the year – partner with us for unparalleled access to genetics professionals!
Virtual Partner Registrations are SOLD OUT!
Visit our Sponsorship Gallery and our partners at TriStar Event Media for advertising options!
You Spoke, We Listened!
We heard loud and clear what our industry partners want, and we have crafted a series of partnership packages to meet those needs in the robust Freeman meeting platform.
Engage & Connect:
Text and video chats
Thought leadership opportunities and placed on official agenda/schedule
NEW 15-minute Industry Lightning Talks
See & Be Seen:
Robust in-meeting data collection dashboard
Pre-meeting marketing opportunities
In-meeting advertising
Share & Share Alike with Thought Leadership:
CoLab sessions, both live and on-demand
Long-format sessions for select partner tiers
NEW Pre-meeting and post-meeting sessions to stretch meeting visibility
Benefits of ASHG Virtual Meetings
Increased Access Worldwide: Virtual events remove the financial and scheduling barriers associated with travel to in-person events, both for guests to attend and for exhibitors to participate.
Access to Key Attendees: Meeting virtually makes it easier for key decision makers and purchasers to see your products and services for themselves, and for you to interact with those attendees directly. More than half of ASHG's 2020 Virtual Meeting attendees were involved in the decision-making process for purchasing products or services for their organizations!
Robust Reporting Features: Virtual meetings are great for detailed reporting on attendee activities: who downloaded what collateral, who watched a webinar and for how long, and of course capturing leads/contact details.
Who Attends ASHG?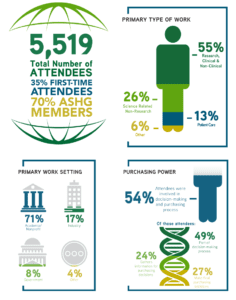 2020 Primary Scientific Interest Areas
as identified by attendees
Bioinformatics and Computational Approaches
20%
Complex Traits and Polygenic Disorders
12%
Epigenetics and Gene Regulation
7%
Evolution and Population Genetics
4%
Genetic Counseling, ELSI, Education, and
Health Services Research
6%
Mendelian Phenotypes
6%
Molecular and Cytogenetic Diagnostics
6%
Molecular Effects of Genetic Variation
7%
Molecular Phenotyping and Omics Technologies
4%
Precision Medicine, Pharmacogenomics, and Genetic Therapies
11%
Prenatal, Perinatal, Reproductive and Developmental Genetics
3%
Statistical Genetics and Genetic Epidemiology
13 %
2020 ASHG Virtual Meeting, Primary Scientific Interest Areas, as identified by attendees

Questions on partnering virtually?
Visit our Industry Partner FAQ or email exhibits@ashg.org.