Announcing the ASHG 2021 Virtual Meeting
October 18-22, 2021
ASHG is working on industry engagement opportunities at and around the Virtual Meeting
to create the most thoughtful opportunities for both exhibitors and attendees.
More info to come in early April.  Click here to be added to our mailing list!
Access our current digital promotional opportunities and reach your audience today!
To best meet the health and safety needs of our guests, speakers, and exhibitors, ASHG will hold our 2021 Annual Meeting in a fully virtual format. The full announcement from ASHG President Gail Jarvik, MD, PhD, can be seen here.
ASHG is proud to partner with exhibitors who continually help us create the best possible experience for our attendees, and we anticipate releasing our 2021 Virtual Meeting exhibitor prospectus in early April.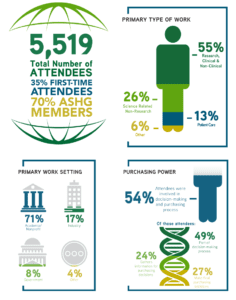 There are several benefits to using a virtual platform:
No Travel Costs: Virtual events remove the financial and scheduling barriers associated with travel to in-person events, both for guests to attend and for exhibitors to participate.
Access to Key Attendees: Meeting virtually makes it easier for key decision makers and purchasers to see your products and services for themselves, and for you to interact with those attendees directly. More than half of ASHG's 2020 Virtual Meeting attendees were involved in the decision-making process for purchasing products or services for their organizations!
Robust Reporting Features: Virtual meetings are great for detailed reporting on attendee activities: who downloaded what collateral, who watched a webinar and for how long, and of course capturing contact details.
We Want to Hear From You!
To meet your evolving needs for meaningful networking and engagement, we invite exhibitors to share your thoughts and feedback on the virtual exhibit landscape as we build our 2021 exhibitor prospectus, whether you exhibited with ASHG or at other virtual events in the last year.
We are actively addressing improved technical and engagement opportunities on a new virtual platform. We will also be adding enhancements in advertising and in thought leadership, which we heard from you was the most important in this new environment.
We hope you will reach out and schedule a time to meet with us!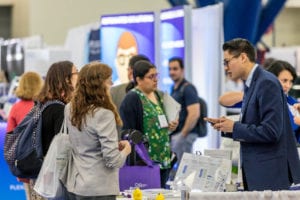 We look forward to your continued partnership and collaboration to make the 2021 Virtual Meeting a success for all.
Sincerely,
ASHG Exhibits Team