Advertising, Sponsorships, & Room Rentals
Strengthen your brand power and boost your message through these exclusive opportunities at ASHG 2023.
New: All digital advertising and event sponsorships are now open to all exhibitors and non-exhibiting companies – including sponsorship opportunities for
ASHG's 75th Anniversary Gala Celebration!
Download the Full Onsite Branding & Advertising Opportunities Packet
Plan your marketing reach to get the most out of your Annual Meeting presence
Or download separate packets by category:
ASHG Digital Advertising Options    |    Mobile App Ads and Ad Retargeting with TriStar
Onsite Advertising, Digital Options   |    Onsite Advertising, Print Options
Purchase Via the Ads & Sponsorship Gallery
Buy your marketing options directly in the gallery
Meeting and Reception Sponsorship Opportunities
We are pleased to offer exciting opportunities for both current exhibitors and non-exhibiting companies to provide partial or full sponsorship for a number of programs and activations for the Annual Meeting. Reach out to exhibits@ashg.org to discuss options that will meet your sponsorship budget!
Coat and luggage check throughout the meeting
Sponsorship packages for our Trainee Reception on Wednesday November 1 and our DEI Reception on Thursday November 2
Headshot lounge in the Exhibit & Poster Hall on Saturday November 4
Tiered sponsorship packages for our 75th Anniversary Reception on Saturday November 4
Don't see an exact sponsorship item you're looking for? Contact the exhibits team and let us know what you have in mind, and we can help you build the perfect package!
ASHG-Provided Digital Advertising at the ASHG Annual Meeting
ASHG provides banner advertising opportunities in emails sent to ASHG attendees with announcements and important reminders, such as:
Know Before You Go – this highly revisited email means lots of repeat views of your ad!
Preview emails of industry focused sessions and activities in the Exhibit & Poster Hall
Daily Digest emails that highlight the day's upcoming events
Banner ad in our registration QR code email – attendees need this code to pick up their badges onsite!
Post-meeting wrap-up
And more!
Click here for the digital advertising options only packet, and visit the Ads & Sponsorship Gallery to purchase.
Digital Advertising in ASHG Newsletters, Website, & More
ASHG also offers banner advertising opportunities to reach our 6000+ members now! Our weekly member newsletter The SNP goes out every Friday morning (eastern time), and we also offer select website landing pages, ASHG Career Center ads and job postings, and more! Click here to download our year-round media kit and reach out to exhibits@ashg.org for options.
Digital Advertising with TriStar Event Media:
Mobile App and Ad Retargeting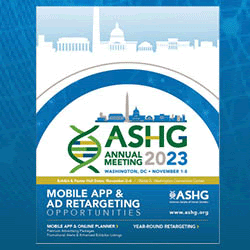 We are proud to collaborate with TriStar Event Media as our exclusive media partner to offer advertising opportunities on our official online planner/schedule and our mobile app, as well as ad retargeting to reach the ASHG audience year-round. More than 80% of attendees download the app on average!
Banner ads and home screen ads seen every time an attendee opens the online planner or the mobile app
Push notifications in the app timed to your sessions
Enhanced exhibitor listings available
Robust ad retargeting with customized analytics dashboard – push your reach beyond the meeting!
This offering is available to exhibitors and non-exhibitors; exhibitors receive discounted rates and preferred scheduling. Contact Steve Smyth with TriStar to start planning your marketing outreach today!
Onsite Advertising with ASHG
We are proud to work with our partners at the Walter E. Washington Convention Center and Freeman to provide exceptional branding opportunities throughout the convention center. Onsite advertising is available to current exhibitors and speaking companies only.
Hanging banners in the lobby and in the industry education session hallway
Digital advertising in large format, fixed, and mobile options
Floor decals, meterboards, and bag stuffers
High-impact escalator branding
Full-color back cover ad on the printed Program at a Glance
And so much more!
Click here for the onsite digital advertising options only packet.
Click here for the print advertising options only packet.
Exhibitor Suites and Meeting Spaces – SOLD OUT
ASHG is pleased to offer exhibitor-only access to private meeting rooms at the convention center and the Marriott Marquis during our Annual Meeting to provide you with a separate space away from the exhibit hall. These rooms are ideal for catered hospitality suites, staff work and break spaces, and other business meetings while staying close to the action.
Exhibitor Scam Alert
Please be aware of unofficial contractors attempting to sell to ASHG exhibitors. New deceptive tactics are always developing, so use your best judgment and reach out to exhibits@ashg.org with any questions or to report suspicious contacts.
Housing: Too often, unsanctioned groups, such as Global Housing Corp or Convention Housing Services based in Henderson, Nevada, send solicitation emails and direct calls to ASHG exhibitors. They typically offer discounted hotel reservations during the ASHG Annual Meeting. Please be advised that all exhibitors and attendees must book their rooms and room blocks directly through Maritz Global Housing, ASHG's official housing vendor, through the link provided on our Hotel Information & Reservations page. We strongly discourage any exhibitor conducting business with any other company, as there have been numerous fraudulent reports.
Email Lists: The most common solicitation you will receive is the offer of an email list for pre-registered Annual Meeting attendees or Society members. ASHG does not sell, rent, or share contact/lead lists of members or meeting attendees. None of these companies are legitimate, and any solicitations for ASHG mailing lists are scams and are in no way endorsed, promoted, or protected by ASHG. Review the options above or contact exhibits@ashg.org for advertising and sponsorship options to reach ASHG members and meeting attendees.
Other: ASHG exhibitors should be aware of any external vendors contacting them regarding an "Expo Guide" for the ASHG Annual Meeting. Many of you may be familiar with this exhibits scam, but please be on the look out for anyone soliciting for a free entry in an Expo Guide. Expo Guide is an organization based in Mexico that deceives people into signing up to their online expo directory at www.expo-guide.com before sending them an extortionate bill. View more information here, including sample letters.
Report Suspicious Contacts: Please contact ASHG if you are unsure of the origin of any email regarding the 2023 Annual Meeting. Official vendors will have their contact information and official forms in the Freeman ESM.
Questions on Exhibiting With ASHG?
Visit our Exhibitor FAQ or contact
301-634-7326  |  exhibits@ashg.org