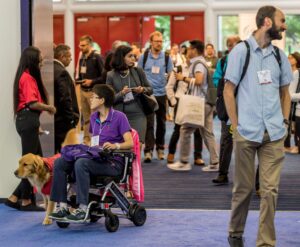 ASHG is committed to providing access for attendees and speakers. If you require accommodations to participate, please contact us in advance of the meeting by emailing meetings@ashg.org with your specific request, using the phrase "ADA Accommodations for ASHG 2023" in the subject line. Advance notice must be provided by September 22 to allow time to explore accommodations, especially for attendees who may require sign language services.
Accessibility Services & Offerings
Reserved front row seating (for mobility, visual, auditory, or cognitive needs).
Closed captioning for concurrent scientific sessions.

Captions will be available at the bottom of each room's main screen. Attendees can also access captions using their personal devices. Instructions will be available during the meeting.

Wide walkways for wheelchair/scooter use.
Accessible restrooms for wheelchair/scooter use.
Gender neutral restrooms.
Lactation room.

A Lactation Room equipped with soft chairs, drapes, accessible electrical outlets, a water cooler, and a refrigerator will be in room 160.
Two (2) Mamava nursing pods are available in the Convention Center. To access them, download the Mamava app. See more info here.

Family room.

A Family Room will be in the convention center in room 155 to give parents and children a place to relax during the meeting. The room will be equipped with comfortable furniture. Attendees may not use this room for babysitting purposes.

Childcare

ASHG encourages families to travel to Washington, DC and enjoy the many family-oriented activities the city has to offer. In partnership with KiddieCorp, ASHG will provide formal childcare at the convention center, for which advance registration is required.
For the safety and security of your child(ren), ASHG has the right to refuse care to any child based on space availability as well as to any child unable to adapt to group situations, or to any child whose presence or behavior may disrupt the program or endanger the health or safety of other children.

Note for childcare services: meals are not included, apart from snacks and water. Parents can order lunch in advance; an order form will be sent to all parents directly by KiddieCorp. Additionally, staff will not administer medication (including sunscreen), and any child who is ill will not be admitted to the center.

Prayer/meditation/quiet room.

A prayer/meditation room will be available in the convention center in room 157AB.

Service animals.

Service animals may relieve themselves outdoors, outside the Mt. Vernon Place entrance. Please come prepared with disposable bags and a water dish.

Services by request only:

Assisted listening devices.
Sign language interpreters.
Motorized scooters for rent.

Please call 888-441-7575 to book your rental. Scooters can be picked up at the business center located in the Convention Center.
DC Convention Center Accessibility
Curbside drop-off for wheelchairs and sidewalk curb cut-outs are located at each corner of the Convention Center.
Ramps leading from the 9th Street and 7th Street corners to the doors at the Mt. Vernon Place entrance. Automatic doors are located at the Mt. Vernon Place, L Street and Metro (7th and M Streets) entrances.
Inside the center, all public areas are served by conveniently located elevators.
The guest information booth at the Convention Center has a limited supply of wheelchairs.
DC Accessibility
Lactation rooms, Childcare, Scooter rentals, Gender-neutral restrooms
ASHG will offer lactation rooms, childcare, scooter rentals, and gender-neutral restrooms. Please see additional details on our attendee services page.
Captioning Services
Real-time captioning services will be provided for concurrent scientific sessions. Dedicated seating areas will be set aside near the front of the room. Look for the reserved signs. For attendees that require American Sign Language, CART transcription services, or have a disability that may affect your participation in the annual meeting, contact meetings@ashg.org.
Speakers and Moderators
The standard head table set-up for plenary, invited and platform speakers is a raised stage (2-3 steps) with a podium, microphone, head table/chairs for moderators. If you need a chair lift, ramp, or high stool at the podium, please let us know by September 22 by emailing meetings@ashg.org.
Questions? Please do not hesitate to contact meetings staff at meetings@ashg.org.