Your Booth Is Booked: Now What?
Spread the word – let your customers and other stakeholders know you'll be at ASHG 2019!
In addition to the numerous options we have available through ASHG's promotional opportunities and Media Kit, ASHG is pleased to provide some free ways to help you promote your presence to your customers!
ASHG 2019 Graphics
Place a banner on your website and link to www.ashg.org/2019meeting. You can also add a banner to your email signature to promote your presence – right-click the image to download.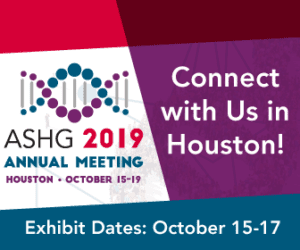 Want to personalize any of these? Email us and we'll send you personalized graphics. Please link graphics to the ASHG 2019 website: www.ashg.org/2019meeting.
Content Ideas
Post ASHG 2019 details to your company's event page. Sample text:
ASHG 2019 is the largest human genetics meeting and exposition in the world. This year's meeting is expected to attract over 6,500 scientific attendees, plus 250 exhibiting companies, powering all areas of innovation the field from microscopes to data storage and analytics. The meeting provides a forum for the presentation and discussion of cutting-edge science in all areas of human genetics.
Write a blog post about what you'll be presenting at ASHG 2019; use one of the banners above.
Social Media Materials
Connect with ASHG on its channels – before, during, and after the meeting.
Connect and engage with attendees through social media!
ASHG 2019's official hashtag is #ASHG19
Want to target trainees – early career and future influencers? Use #ASHGtrainee
Use #ASHGtrainee especially for job opportunities!
Use these badges to promote yourself at ASHG 2019!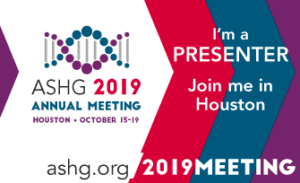 Share on Twitter     Download Image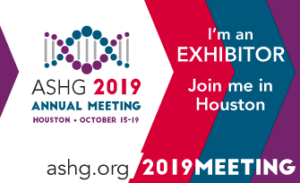 Share on Twitter     Download Image
Use these tweets and posts to get started:
Visit our booth # XXX at #ASHG19 October 16-18 in Houston!
Q: Where do all the thought leaders in human genetics come together?
A: #ASHG19 October 15-19 in Houston. http://www.ashg.org/2019meeting
We're hiring! Want to talk about opportunities @COMPANYNAME? Visit booth #XXX #ASHG19 #ASHGtrainee
Don't miss the largest human genetics meeting in the world #ASHG19 October 16-20 in San Diego. We'll be there http://www.ashg.org/2019meeting