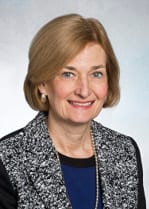 William Lambert Richardson Professor of Obstetrics, Gynecology and Reproductive Biology and Professor of Pathology, Harvard Medical School
Director of Cytogenetics, Brigham and Women's Hospital
ASHG: If you could go back to when you were a trainee, what is one piece of advice you would give yourself for your current career?
Dr. Morton: Given my role in the provision of cytogenetic services, I would recommend that some education in laboratory services as a business would have been valuable. That being said, the education that would have been provided some 30 years ago would have been very different from that today. For example, we did a lot of additional testing because we were scientifically intrigued about a clinical finding, but that's just not as easy now due to the limited clinical revenue.
ASHG: What are your favorite and least favorite parts of your job?
Dr. Morton: There's a right off the top of my head answer to one of the many favorite parts of my job. I returned from Riyadh last night having attended an International Workshop on Rare Diseases there. Traveling the world and learning about other cultures and countries has been a fabulous perk of being a scientist.
We share the language of science while working to improve the health of humankind, and that is a very special privilege.
Regrettably, I also have a right off the top of my head answer to the least favorite part, and it's the ever increasing amount of administrative burden. I just completed required training in the roll out of ICD-10 coding, and there wasn't a single item in the HealthStream coursework relevant to clinical cytogenetics.
That really didn't matter to my institution's administration as it was better to be inclusive from their standpoint than to worry about the wasted time of those for whom the training was appropriate. And then there's the dog walking unit I had to complete for IACUC although my lab only works with mice as animal models…
ASHG: What do you think the future holds for the field of genetics?
Dr. Morton: The future for the field of genetics is a deeper understanding of the biology of life and the evolution of humankind.  What could be more exciting?
Want more interviews? Join the ASHG Trainee Forum to keep up with new ones!