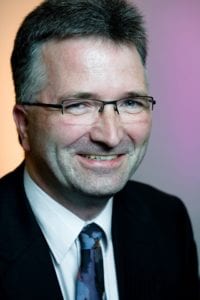 Park Gerald Chair in Genetics and Genomics, Associate Chief
Boston Children's Hospital
ASHG: If you could go back to when you were a trainee, what is one piece of advice you would give yourself for your current career?
Dr. Bodamer: Do not be afraid to think outside the box when approaching scientific problems. I remember that I was sometimes discouraged if an experiment did not go my way and equally surprised that the obvious solution was right in front of my eyes.
"Don't only practice your art, but force your way into its secrets, for it and knowledge can raise men to the divine." (Ludwig van Beethoven)
ASHG: What are your favorite and least favorite parts of your job?
Dr. Bodamer: As a physician-scientist and clinical geneticist, the most rewarding part of my job is to be in a position to make a difference in a patient's life, either through providing a diagnosis, care and/or counseling. My least favorites are the overburdening administration and the constant arguments with insurance companies about coverage for genetic testing.
ASHG: What do you think the future holds for the field of genetics?
Dr. Bodamer: Genetics and genomics will increasingly become an integral part of clinical medicine with direct benefits to patients and society at large. The field will continue to push the scientific frontier and provide the future knowledge base in conjunction with other fields, such as molecular biology and biochemistry, for the in depth understanding of normal physiology, disease processes, and the development of molecular therapies.
Want more interviews? Join the ASHG Trainee Forum to keep up with new ones!