Posted By: Jil Staszewski, Policy & Advocacy Manager, ASHG
September 18-19 marked the 2019 Rally for Medical Research, hosted by the American Association for Cancer Research (AACR). Three hundred scientists, physicians, patients, and activists met with their elected officials on Capitol Hill, calling for an increase of at least $2.5 billion in NIH funding in Fiscal Year (FY) 2020.
Emily Davenport, PhD, of Pennsylvania; and Grace Kwon, BS, of Connecticut, both members of the Training & Development Committee, participated in this event, sharing their stories with seven congressional offices to make a case for this increase in funding.
ASHG: How was your overall first experience advocating on the Hill?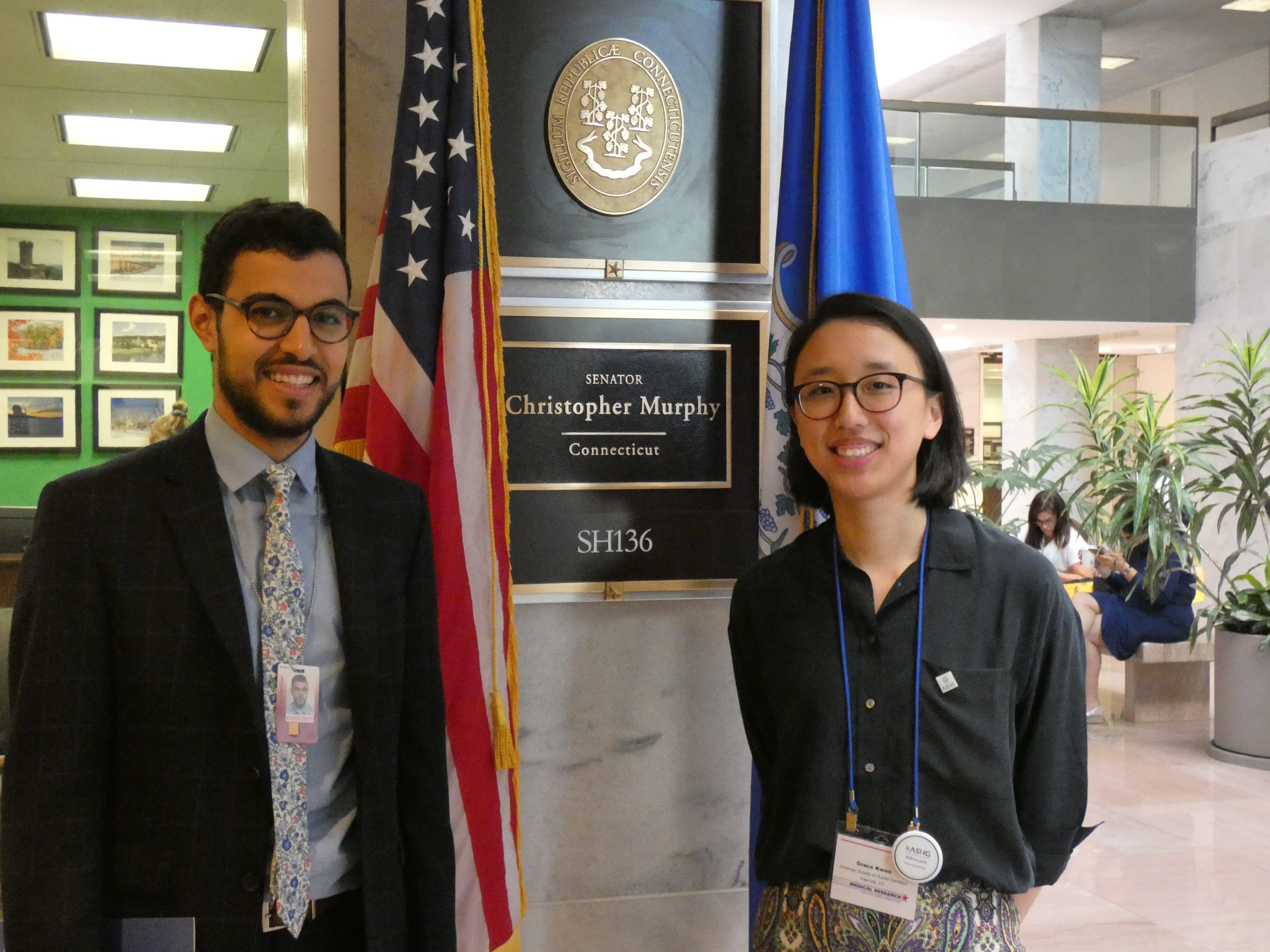 Grace Kwon: Participating in the Rally for Medical Research was a wonderful experience. It put into perspective the wide-ranging impact both basic and clinical research can have across the country, at an individual and community level.
The opportunity to directly advocate for increased NIH funding to Congressional offices was a unique experience that a graduate student might think wouldn't have a large impact. However, as the only constituent from the state of Connecticut I was able to give personal examples of how NIH funding has made an impact on my training thus far. As a student, I was also able to directly speak about the impact that a sustained increase in NIH funding would have on my future career.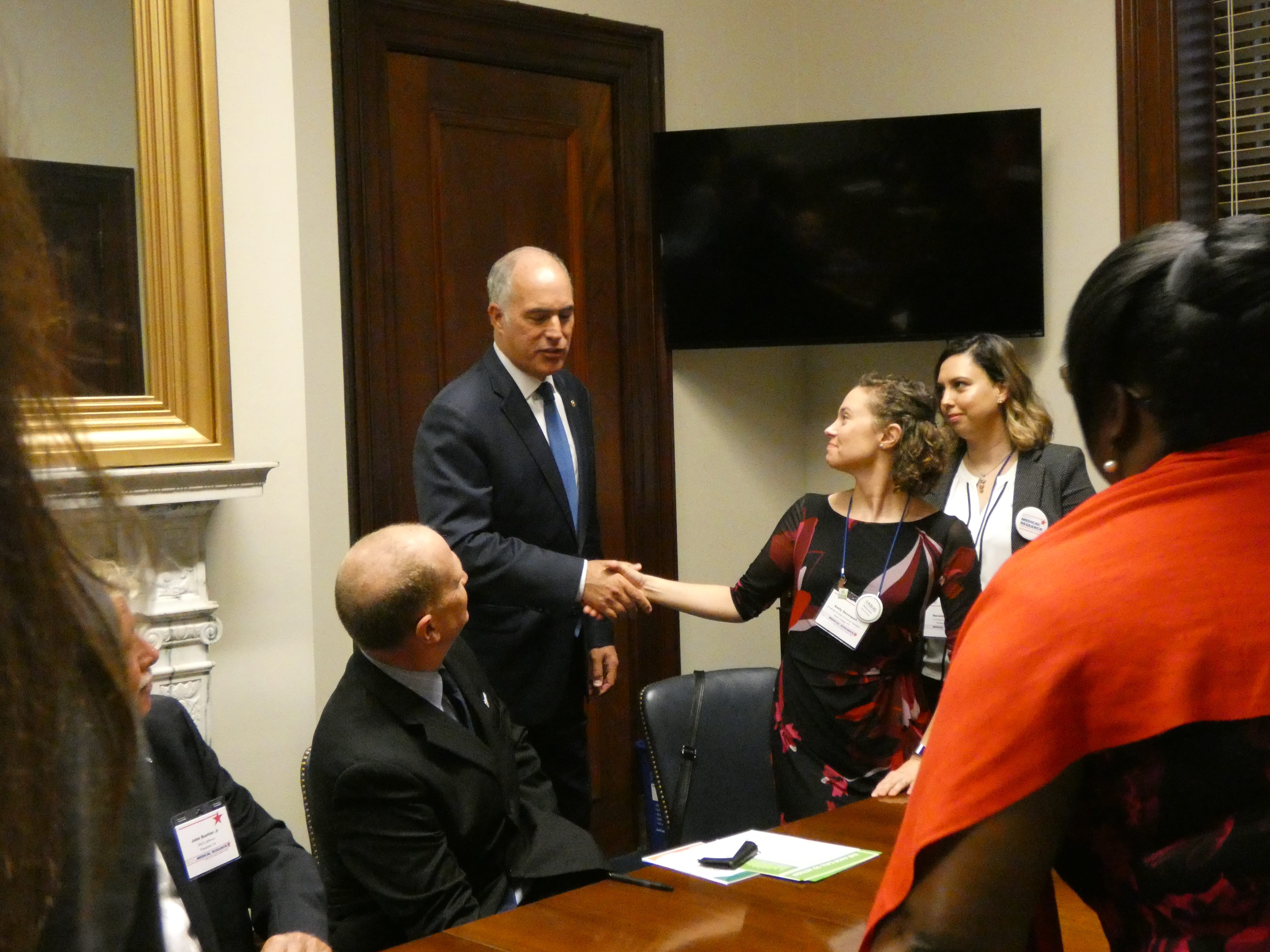 Emily Davenport: I had a great time advocating for NIH funding with the Rally for Medical Research. I was able to meet with elected officials and/or staff from both of the Senators and three of the representatives from my state, along with other researchers, patients, and advocates. Every conversation was different. The perspectives of everyone in the room emphasized the broad reach NIH funding has, including not only improving health, but for science careers, job creation, and education.
ASHG: Why is it important for scientists to meet with their members of Congress?
Emily: Science takes time and science careers can be unstable. As working scientists, we are all too aware of those facts, but they aren't always clear to our representatives. It's incredibly useful for members of Congress to meet with researchers to understand just how long it takes to go from having an idea, to securing funding, to performing the research, and then potentially translating that research into something clinically useful.
Having stable and predictable funding is the only way that can happen. Representatives see first-hand what their support is capable of generating by hearing examples of the research discoveries happening in their home districts.
Grace: The fact that the Rally for Medical Research brought a wide-ranging group of individuals is a testament to the impact that NIH funding has in the United States. Scientists bring one unique perspective that will help Congressional leaders understand how increasing NIH funding provides both short- and long-term benefits. Important innovations like cancer immunotherapies, genetic testing, and vaccines started in the laboratory.
There is also an underlying notion that science and research is inaccessible to the general public. This is false! Science is for and impacts everyone. It is a scientist's responsibility to make their research understandable to those outside of the field and provide a broader context for their research focus.
ASHG: What are some ways your colleagues and fellow ASHG members can get involved in advocacy?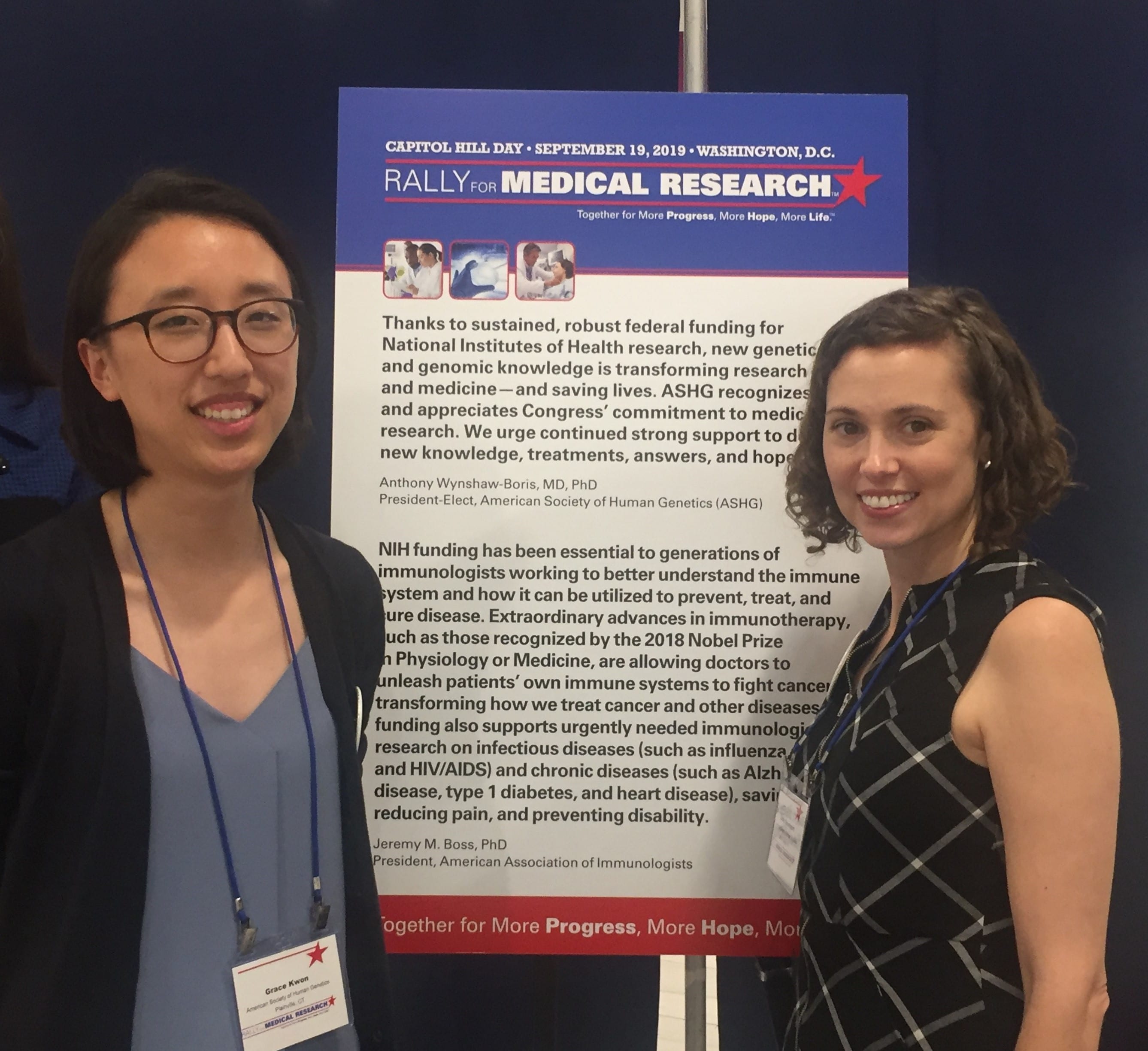 Grace: Reach out to your state's Congressional leaders! ASHG has many opportunities listed on their webpage, where you can also send a letter to your state's Senators. Institutions often have an office dedicated to working on legislation focused on science-related issues, such as research funding – I would reach out to them for any opportunities they have available. If you are a trainee or student, you can form a student group or organization focused on advocating for a specific cause if your institution does not already have one.
Emily: Advocacy comes in all shapes and sizes. You can do as little as take 10 minutes to call or email your representatives about an issue that's important to you, or go as far as applying to do a policy fellowship to be directly involved on a daily basis. One great way to start getting involved is "taking the pledge" and becoming an ASHG Advocate. You'll get monthly email updates with up-to-date action alerts, genetics policy news, and relevant policy-related events.
Please visit ASHG's Advocacy Center and "Take the Pledge" to become an ASHG Advocate!