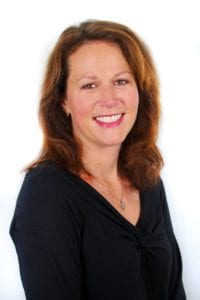 Director of STEM and Undergraduate Education
Jackson Laboratory for Genomic Medicine (JAX-GM)
Dr. Wojiski earned her BS from the University of Connecticut and her PhD in genetics from Harvard University. Prior to joining JAX-GM, she taught at Southern Connecticut State University and the Massachusetts College of Pharmacy and Health Sciences.
Her job at JAX-GM includes overseeing career development opportunities for trainees and teaching a professional development course to help high school teachers effectively teach genetics and genomics.
Grace Kwon, ASHG: Are there aspects of your training that you feel were crucial to help you get to where you are now?
Dr. Wojiski: I had the unique opportunity to participate in a curriculum and teaching-focused postdoctoral fellowship at Harvard Medical School, called the Curriculum Fellows Program. That experience gave me additional teaching experience, but also really allowed me to dive deep into science education literature and to build my skills in curriculum and program development.
I worked extensively on revising and refining the graduate curriculum in genetics as well as building para-curricular activities that helped to build a comprehensive training program. I also taught in the first-year medical students' Human Genetics course.
From there, I went on to teach biology for seven years at teaching-intensive undergraduate institutions, where I was able to put much of what I had learned into practice in the classroom. It also allowed me to do some classroom-based research to assess the value of certain pedagogical interventions.
Ultimately, I believe it was the accumulation of teaching experiences from the high school to graduate and medical school level, as well as my knowledge of educational research and evidence-based pedagogy, that led me to my current administrative role.
ASHG: Did you know this was the career you wanted to pursue during your training?
Dr. Wojiski: I knew very early on in my graduate training that teaching and science education were what I was really passionate about. I found that when I was doing community outreach with middle school students or serving as a teaching assistant in a genetics course, I would go home at the end of the day and feel fulfilled more by those experiences than I was by my research.
Once I realized that this was the career path I wanted to pursue, I sought out as many opportunities as I could during my graduate training that would give me more teaching experience. I also discussed my career goals early on with my mentor, who was supportive and did not discourage me from pursuing the career path that I was passionate about.
ASHG: Did you face any unique challenges or hardships during your graduate/post-graduate training?
Dr. Wojiski: During the second year of my PhD program, I faced a significant medical issue that ultimately led to my withdrawal from my graduate program. At the time, I needed support from my family, so I moved back to my hometown and took a job as a high school biology teacher.
While I enjoyed teaching high school, I found that I really missed being immersed in the cutting-edge science and current research. I also felt constrained by state standardized testing requirements and district-specific curricula; I did not have much freedom to teach how and what I wanted to teach.
Ultimately, I felt that higher education was a better fit for me, which led me to the decision to return to graduate school and finish my PhD. My graduate advisor and program administration accepted my petition for readmittance, and I returned to my lab to finish out my degree program. I had been away for two years, and a lot happens in science in two years! I had a lot of catching up to do, but also had great support from the graduate students and postdocs in my lab, as well as my PI.
I share this story because I think it is important for trainees to know that it is possible to overcome stumbling blocks. Being a trainee can be a very trying and stressful time, and sometimes, life happens. But I encourage you all to focus on what your ultimate goal is and to not give up on achieving that goal.
ASHG: What is the most rewarding and most difficult part of your job?
Dr. Wojiski: The most rewarding part of my job is the opportunity that I have to interact with students and trainees at all levels of experience and career development. I oversee high school and undergraduate interns, graduate students, postdoctoral fellows, and high school teachers. They all have different needs and experiences, which can be challenging, but also very exciting.
To be able to help someone work through a teaching issue (such as how to effectively teach PCR to high school students), a scientific issue (such as how to write an effective research proposal) or a career development issue (such as how to network with professionals in a preferred career sector) is highly satisfying.
I think the most difficult part of my job, which also contrasts from my previous experience as a biology professor, is the level of multi-tasking and long-term project organization that is required to oversee and implement the wide-ranging educational programs in my portfolio. Each day can be pretty unpredictable and usually involves juggling multiple tasks that are important to multiple different education programs.
There were of course unexpected crises and multitasking required when I was a professor, but my schedule was much more dictated by the academic calendar (and the syllabi for my courses!). So that has been a bit of an adjustment.
ASHG: How can a trainee gain experience in your area while doing research? What steps are necessary for a trainee to get involved in your field?
Dr. Wojiski: If teaching and/or science education and outreach are your ultimate career goals, it is critically important to get teaching experience beyond what is minimally required by your training program (and some training programs do not require any teaching). This could occur through mechanisms such as taking on additional teaching assistant duties or serving as an adjunct instructor at a local community college or undergraduate institution. Many colleges and universities need adjuncts, particularly in laboratory courses, and often for evening sections.
While it will require some creative time management, one can obtain these experiences while still being productive in the laboratory. Volunteering with community outreach programs (e.g., after-school STEM camps or tutoring programs) or with a local science center or museum will also provide valuable experience.
Finally, find out if your institution has a center for teaching and learning or similar resource, and if so, begin to take advantage of some of their programs. Start getting familiar with education research. Participate in workshops, courses, or seminars that focus on current education research and provide opportunities for practice with effective pedagogical approaches.