For Immediate Release
Monday, July 16, 2018
12:00 p.m. U.S. Eastern Time
Media Contact:
Ann Klinck
301.634.7342
press@ashg.org
Geneticist to Receive Award at ASHG 2018 Annual Meeting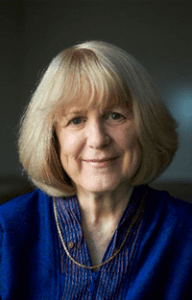 ROCKVILLE, MD – The American Society of Human Genetics (ASHG) has named Mary-Claire King, PhD, as the 2018 recipient of the Advocacy Award. Dr. King is American Cancer Society Professor of Medicine and Genome Sciences at the University of Washington in Seattle.
This award honors individuals or groups who have exhibited excellence and achievement in applications of human genetics for the common good, in areas such as facilitating public awareness of genetics issues, promoting funding for biomedical research, and integrating genetics into health systems. ASHG will present the award, which will include a plaque and $10,000 prize, on Friday, October 19, during the organization's 68th Annual Meeting in San Diego, California.
"Best known for her pivotal discoveries in breast cancer genetics, Dr. King has also spent many years as a tireless advocate for the use of genetics to help people and families around the world," said David L. Nelson, PhD, President of ASHG. "This award recognizes her efforts to devise and implement solutions to real-world, societal challenges using genetic technologies."
Since 1983, Dr. King's lab at the University of Washington has partnered with the Grandmothers of the Plaza de Mayo in Argentina to reunite families using genetics. Together, they identify children who were kidnapped as infants after their parents were murdered during the Argentinean military dictatorship of 1975-1983. For this purpose, Dr. King developed mitochondrial DNA (mtDNA) sequencing to match kidnapped children to possible maternal relatives. Over the past 35 years, her lab has helped reunite 130 families.
Since the 1990s, Dr. King has worked with the United Nations Forensic Anthropology Team, using the same mtDNA sequencing process to identify the remains of victims of extra-judicial execution, and of soldiers who went missing from Vietnam, Cambodia, Korea, and during World War II. Her approach is now used by governmental and United Nations forensic teams worldwide.
Dr. King's research focuses on the genetic bases of breast and ovarian cancer, schizophrenia, and inherited hearing loss. In 1990, she used mathematical modeling and chromosome mapping to show that breast cancer is genetically inherited in some families, as the result of mutations in the gene she named BRCA1. This work was the first use of linkage analysis to prove the existence of a major gene for a complex trait.  Since then, her lab has identified more than 50 genes responsible for a wide range of conditions.
With her colleagues in the Middle East, Dr. King has characterized inherited predisposition to breast cancer in the Palestinian population. In parallel, the partnership has developed and sustained local expertise throughout the Middle East to provide advanced genetic services.
A longtime member of ASHG, Dr. King was President of the Society in 2012.
About the American Society of Human Genetics (ASHG)
Founded in 1948, the American Society of Human Genetics is the primary professional membership organization for human genetics specialists worldwide. Its nearly 8,000 members include researchers, academicians, clinicians, laboratory practice professionals, genetic counselors, nurses, and others with an interest in human genetics. The Society serves scientists, health professionals, and the public by providing forums to: (1) share research results through the ASHG Annual Meeting and in The American Journal of Human Genetics; (2) advance genetic research by advocating for research support; (3) educate current and future genetics professionals, health care providers, advocates, policymakers, educators, students, and the public about all aspects of human genetics; and (4) promote genetic services and support responsible social and scientific policies. For more information, visit: http://www.ashg.org.
6120 Executive Blvd, Suite 500 | Rockville, MD 20852 | 301.634.7300 | society@ashg.org | www.ashg.org
Connect with ASHG on Twitter (@GeneticsSociety) | Facebook | LinkedIn