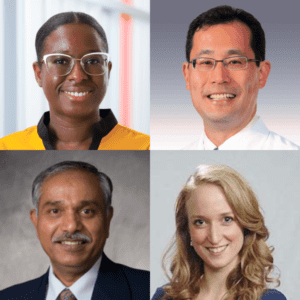 Each year students, teachers, and genetics researchers around the world mark their calendars for April 25, DNA Day. This day marks milestones in the field of human genetics and encourages communities, students, and teachers to enhance their knowledge of this field. The ASHG DNA Day Essay Contest winners were announced with winners and honorable mentions from the United States, China, and New Zealand and over 700 submissions from over 30 U.S. states and 35 countries.
This year, ASHG continued to celebrate DNA Day with activities that included a social media campaign; a new Discover Genetics fact sheet about the laws of inheritance; a Tik Tok video; a panel on the Ask Science Reddit page about Mendelian and complex disorders; a webinar about sharing your research with the public; and a guide to hosting a lab tour with your local community. These resources were created to be incorporated into the celebrations of anyone looking to participate in DNA Day and expand their knowledge of human genetics. "Participating in AskScience Reddit forums is an opportunity to reach a new audience and empower the general public to learn more about human genetics research," said Reddit panelist Pramod Mahajan, PhD. "This group is already informed and engaged in science discussion via the channel, so it was exciting to engage with them. There were thoughtful and challenging questions from around the world. It truly shows the level of excitement and curiosity there is for our field."
ASHG spoke with essay reviewers and members of the Public Engagement & Awareness Committee (PEAC) Sharri Cyrus, MS, Pramod Mahajan, PhD, Joseph Shen, MD, PhD, and Christina Vallianatos, PhD about their experiences reviewing essays, what they hope students and teachers learn from participating in the contest, and how they celebrated DNA Day.
ASHG: What did you enjoy about reviewing this year's essays?
Cyrus: It is always great to see when individuals can grasp and competently explain genetic concepts. It's even more remarkable when these individuals are high school students. It was a pleasure reading this year's essays, and definitely a learning experience as some essays presented interesting examples that I did not know of previously.
Mahajan: This year, I had the opportunity to serve as a reviewer for the final rounds.  Not surprisingly, therefore, I enjoyed the excellent quality of work submitted by each participant.  Students presented their arguments coherently, concisely, and clearly.  Citation of original research, not just NIH websites, was another highlight of all the essays I reviewed this year.  Kudos to the participants and their mentors!
Finally, I could hardly contain my joy when the results of the contest were announced; this year, for the first time, I had the honor of judging both the winner and the runner-up essays.  Interestingly, my ranking was also in the same order as the final results!!
Shen: I enjoyed being provided a window into the minds of high school students who are rapidly absorbing increasingly complex material that they are being taught. Their level of interest and excitement regarding genetics clearly comes through in their writing and reminds me of how enthusiastic I was in considering this field as my career choice when I was at the same age!
Vallianatos: One of my favorite things about reading DNA Day Essay Contest entries is getting a glimpse into how today's students think through the prompt. I most enjoy seeing the misconceptions, the concepts that aren't well understood. While these essays don't usually make it to the top, I think they highlight areas where the scientific community can work to improve communication and education. For example, what I realized in reading this year's essays is that while most students correctly grasp the concept that Mendelian disorders are single-gene, "complex diseases" was not always recognized as the term for multifactorial disorders. Many students often used the colloquial definition of "complex" to describe genetic disorders as hard to treat or difficult to understand. I'll certainly think about this in my work as well as when talking with family and friends, especially when using scientific language that might also have everyday meanings.
ASHG: The aim of the question each year is to encourage students to examine, question, and reflect on important concepts in genetics. What do you hope students and teachers took away from this year's question?
Cyrus: I hope they have gained a new appreciation for how instrumental Mendel's work has been in the development of modern genetics.
Mahajan: I hope that the participants and their mentors now appreciate the impact of Mendelian genetics on understanding, detecting, and managing or treating single-gene disorders. Additionally, I hope they are able to visualize the challenges and opportunities associated with detecting and managing multigenic disorders.  This, I hope, would inspire many young minds and they would pursue higher studies in this field.
Shen: I hoped that all of those involved in thinking about our DNA Day question appreciate that science is a never-ending process of learning, expanding upon concepts, and formulating and testing hypotheses to continue to evolve our knowledge. Importantly, it took seminal work such as that by Mendel to start us down the path that we are on, and genetics still is not close to being completely understood.
Vallianatos: I hope folks realize that genetics is more than Mendel and his peas. I also hope that this year's question illustrates how knowledge builds and grows, and that seemingly "random" experiments on other organisms like plants can still inform us about human health and disease. Stay curious! Ask questions! You never know how your discoveries will connect to something bigger in the future.
ASHG: How else did you celebrate DNA Day?
Cyrus: A social media post about fun DNA facts!!
Mahajan: I participated in the AskScience Reddit panel discussion.  Additionally, I had an informal chat about the winner and runner-up essays with the undergraduate students in my lab.
Shen: The truthful answer is that we said "Happy DNA Day" to each other within our (clinical) genetics division.
Vallianatos: I had the honor of leading DNA Day celebrations at The Jackson Laboratory (JAX) this year. Our JAX campuses shone brightly with multi-colored lights in recognition of DNA Day, we shared genetics trivia on Twitter & Instagram, published a Celebrate DNA Day toolkit, and more! Our Genomics Education team also runs a parallel essay contest where we encourage high school students from our Teaching the Genome Generation™ program to submit to both ASHG as well as to us; we awarded 2 top prizes this year!
To get involved in the DNA Day Essay Contest, add your name to the interest form on the Essay Contest page. Volunteer to be a member of the Genetics Education and Engagement (GENE) Network to connect with the science-interested public year-round.