By Arvind Kothandaraman, member of the Public Education & Awareness Committee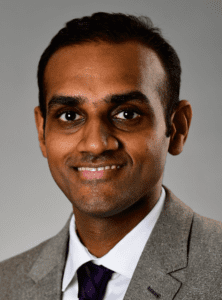 Do you remember the first time you entered a genetics lab? It may have sparked your curiosity, raised questions, or even inspired you to pursue a career in human genetics research. While it is common for some ASHG members to spend time in the place where findings are made and breakthroughs occur, many outside the genetic community never see the inside of a science lab – the closest they get to a lab may be reading about new discoveries or seeing a scientist in a movie hold up a test tube as they peer through goggles. By hosting lab tours, relationships are created with local communities and understanding of science becomes more accessible. Public Education & Awareness Committee member Arvind Kothandaraman has hosted many tours through his career. He spoke with ASHG to create a guide to host a lab tour.
Getting Started
Hosting a lab tour may be something you're interested in pursuing, but what's the first step? Start by reaching out to your own contacts or local schools. Many school websites provide contact information for teachers, department heads, or general administrators. Once a connection is made with even one person, a network is created. Similarly, evaluate your own network. Perhaps your child's teacher is interested in setting up a tour. Trust and reliability are key to establishing a long-lasting outreach relationship – offering yourself as a resource to supplement someone's learning sets the foundation for these key components.
With either a new or existing contact, include all information that could help their decision of whether to set up a tour. Some considerations include:
Tour itinerary and duration
Any hands-on aspects the group will be able to participate in
People that the group may have the opportunity to meet while on the tour
Take-home resources
Your willingness to provide additional resources, such as classroom activities or time to set up discussions about career or higher education advice if students are interested in pursuing this further
Considerations and Collaborations
Each lab is different, as are your capabilities as a host. Perhaps certain times of the year allow you more opportunities to host. October may be a difficult month to host due to the ASHG Annual Meeting! When evaluating how you will conduct your tour, consider the groups you feel would be most capable of hosting in your lab. Do you have experience working with high school students but not elementary school students? Or do you want to host a tour with people who have various expertise? This may be an opportunity to collaborate with a colleague or another ASHG member. The GENE Network provides you with a network of ASHG members looking to connect with the education and engagement community. This includes fellow members looking to expand their engagement network. Search by location, audience level, and area of interest to find a fellow ASHG member with whom you can collaborate.
Keeping the Group Focused
As with any group setting, it is important to have strategies on hand to keep everyone focused. Keeping everyone thinking, engaged, and curious leads to an enjoyable experience for all. Assigning deliverables to students helps them focus during the tour. Have a few research questions in mind that you are grappling with. Share these questions with students ahead of or during the tour and brainstorm ways to answer the question. Eye opening suggestions can come from unexpected angles!
Post-Tour Activities
Turn a tour into a larger project. Once your time with a group has concluded, encourage them to create group artwork or even a simple list that captures what they took away from the tour. This could revolve around the lab's set up, people, or other notable things. Not only does this help students retain information, but it can also be a gift for the host – a seemingly simple gesture can turn out to be a prized possession to the receiver.