Posted by: Katy Brown, ASHG Career and Workforce Development Coordinator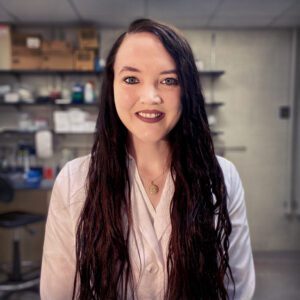 Kelsey Dawes, BS, PhD Candidate
Molecular Medicine, Department of Psychiatry, University of Iowa. Molecular Diagnostic Intern, Behavioral Diagnostics LLC
Dawes K, et al. Refinement of cg05575921 demethylation response in nascent smoking. 2020 Clinical Epigenetics 12, 92.
You may not be surprised to hear that if you ask a teenager if they smoke, their answer might not be 100% truthful. This is a bane for researchers studying rates of early smoking, and hinders our understanding of the short and long-term health effects of it. This Trainee Paper Spotlight article, by Kelsey Dawes et al., poses a clever solution to this problem, by pinpointing a molecular marker of smoking time and intensity. To do so, they measured methylation of a CpG residue in the AHRR locus, which is known to be sensitive to smoking status in adults, in a cohort of high school students at multiple time points. Their results demonstrate the utility of using this locus in adolescents as a reliable marker for early smoking status. This article is a great example of how genomic approaches can be used across disciplines to improve the sciences more broadly.
Training & Development Committee: Could you describe your research for us?
Ms. Kelsey Dawes: My research focuses on elucidating the genetic and epigenetic architecture of clinically relevant phenotypes utilizing machine learning and artificial intelligence. My overarching goal is to generate precision epigenomic panels to support personalized medicine strategies for more effective prevention and treatment efforts. My current research focuses on harnessing the complex interplay between DNA methylation and genetic variation to develop a digital PCR risk assessment for Type 2 Diabetes that is compatible with telehealth platforms
TDC: What are your career goals?
KD: Currently, I am in the final stages of my PhD training, with an expected graduation date early next year. Post-graduation, I will become the CEO and CSO of my biotech startup company, while also holding a staff scientist position at Behavioral Diagnostics LLC. My ultimate goal is to contribute to precision preventive medicine by providing clinicians with better tools, and being at the forefront of digital health.
TDC: Why did you choose genetics as your field of study?
KD: With a fortunate stroke of serendipity, I joined my current lab while pursuing a career in clinical pathology. Almost instantaneously, I became captivated by the complex genetic and environmental architecture that underlies the development and clinical presentation of disease. It wasn't until a good friend lost his battle to AML, that I became passionate about implementing and applying epigenetics into the clinic. In the midst of his fight, technology existed in academia which could have aided in subtype differentiation and treatment selection; technology which his clinicians desperately needed. I chose this field for its promise in revolutionizing medicine and improving patient outcomes.
TDC: If you could pick three words that describe yourself, what would they be?
KD: Innovative, Driven, Entrepreneurial