Posted by: Sarah Robbins, PhD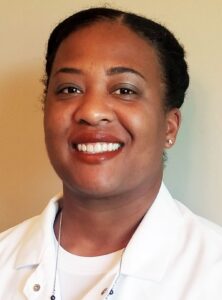 Athena Starlard-Davenport, PhD is one of the eight inaugural HGSI scholars for 2019-2021. She is an assistant professor of Genetics, Genomics, and Bioinformatics at University of Tennessee Health Science Center (UTHSC), where she studies globin gene regulation in sickle cell disease, breast cancer genetics, and cancer disparities. Dr. Starlard-Davenport recently received her first R01 independent research grant, a major achievement in the life of an academic scientist. She shared her journey to finding her current faculty position and some of her top tips for preparing your first R01 below.
ASHG: What professional training did you pursue before finding your faculty position? 
Dr. Starlard-Davenport: I received my PhD in the Department of Biochemistry and Molecular Biology at the University of Arkansas for Medical Sciences (UAMS) in Little Rock in 2007. After completing my PhD, I pursued postdoctoral training in the Department of Biochemical Toxicology and soon after was selected to participate in the FDA Commissioner's Fellowship Program where I obtained FDA regulatory training and continued research training in epigenetics and breast cancer.  Because I was deeply passionate about understanding the genetic causes of breast cancer disparities in black women, I pursued a second postdoctoral fellowship at UAMS in the Department of Medical Genetics and Cancer Control and Population Sciences.
ASHG: What was the process for finding your position at University of Tennessee? What is the interview process like?
Dr. Starlard-Davenport: Finding the right faculty position for me took a lot of due diligence on my end.  I searched the internet daily looking for open faculty positions that were aligned with my research goals and objectives. The faculty job description in the Department of Genetics, Genomics and Informatics (GGI) at UTHSC nicely aligned with my research background and they were interested in candidates who were eager to establish an independent research program in Memphis, where health disparities are a major problem.  I applied for the position, and months later, I was invited to meet with the Chair, other faculty members, and give a seminar – also known as a job talk. I was invited a second time soon after to discuss logistics and to meet with the Dean and additional scientists and clinicians, who would serve as collaborators on research projects.  After the second meeting, I negotiated my salary and start up package with my Department Chair.
I knew this faculty position was the right one for me because it was clear that faculty in the department supported each other and really stressed the importance of developing research collaborations, which are critical for research success.  I also admired the campus diversity among faculty and students and the resources available that would help jump start my research career.
ASHG: What advice helped you as you started writing your first R01 grant?
Dr. Starlard-Davenport: Learning how to write a grant is not an easy task.  The hardest part for me about writing a grant was crafting a specific aims page that tells a compelling story as to why my research is critical and how is it going to help others and how I planned to accomplish this task. I received support from several faculty members, but the most important was the PRIDE program in Functional and Translational Genomics of Red Blood Cell Disorders in June 2016.  There I met Dr. Betty S. Pace at Augusta University, who served as my mentor and is now a close collaborator. She really supported me in writing a compelling grant, since she has received several NIH-funded R01 grants and served on many study sections.  Getting advice from an experienced senior investigator, like Dr. Betty Pace, is critical. Even more critical is having a mentor who is truly dedicated to reviewing your grant and providing critical feedback.
I would also encourage any early career investigator to apply for the NIH Early Career Reviewer Program. Serving as an early career reviewer on an NIH Study section allowed me to see first-hand how the review process takes place and how NIH grants are written.
ASHG: How has the HGSI Scholars program contributed to your success in human genetics?
Dr. Starlard-Davenport: The HGSI Scholars program has afforded me the opportunity to meet scientists and establish new research collaborations.  I have received complimentary ASHG membership for two years, enrichment funds for qualified career development, registration, travel, and hotel accommodation to attend two ASHG Annual Meetings. I have also been provided a dedicated mentor – Dr. Charmaine Royal, Associate Professor and Director of the Center on Genomics, Race, Identity, Difference and Center for Truth, Racial Healing & Transformation at Duke University.
ASHG: What other resources can ASHG provide that would be especially helpful to early career researchers like you?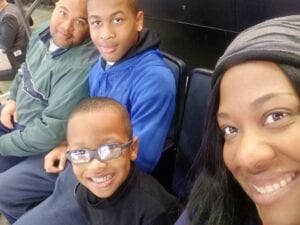 Dr. Starlard-Davenport: The number of minorities, particularly African Americans, in science is limited. As a result, minority scientists often feel isolated and do not have a strong support network. As an African American woman who is transitioning as an independent scientist with a laboratory and wife and mother of two boys, balancing my different roles is challenging. I would like to envision ASHG providing opportunities for open discussion and resources for managing work-life balance, setting up a research lab for the first time, and leadership opportunities to ensure our voices are heard.
Congratulations on your R01, Dr. Starlard-Davenport! ASHG is working to help provide additional resources and discussion forums for early career researchers. Make your voice heard during ASHG's Diversity, Equity, and Inclusion Dialogue Series, starting August 6.