Published: Friday, April 24, 2020, 12:00 p.m. U.S. Eastern Time
Media Contact: Kara Flynn, 202.257.8424, press@ashg.org
Contest Addressed Ancestry Tests and Cultural Heritage
ROCKVILLE, MD – As part of its celebration of National DNA Day, the American Society of Human Genetics (ASHG) announced today the winners of its 2020 DNA Day Essay Contest, which encourages high school students and teachers worldwide to learn about human genetics concepts and apply them to current scientific and societal issues. ASHG awarded first place to Anisha Parsan, a freshman at Clements High School in Sugar Land, TX; second place to Darren Lee, a junior at Farmington High School in Farmington, CT; and third place to Jasmine Li, a freshman at Xi'an Liangjiatan International School in Xi'an, China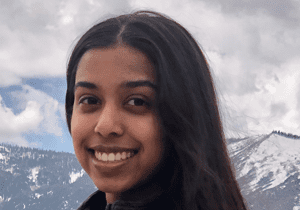 and Ananya Raghavan, a junior at Morris Hills High School in Rockaway, NJ.
ASHG received essays from about 850 students from 39 U.S. states and 28 non-U.S. countries, who explored ancestry testing and cultural heritage. Nearly 300 ASHG members evaluated the results for accuracy, creativity, and writing. Since 2006, the Society has led the contest annually and seeks to spark excitement and learning among the next generation of genetics professionals and foster greater genetic literacy among the general public.
This year, students were asked to research types of information they could learn about their genetic ancestry through three types of genetic testing: Y chromosome testing, mitochondrial DNA testing, and autosomal DNA testing. Students were then asked to compare and contrast this genetic ancestry information with their cultural heritage
"With genealogy websites such as Ancestry.com and 23andMe becoming increasingly popular each year, we were interested in bringing science students' attention to the promise and some of the potential complexities raised by these tests, including how the information you learn may conflict with the information you know, especially as it relates to your family traditions and culture," said Joseph Shen, MD, PhD, an Associate Professor at the University of California, San Francisco – Fresno campus and a member of ASHG's Public Education and Awareness Committee. "The goal of the question was to get students to understand ancestry tests in a more scientific way, by researching the three types, and in a personal way, by analyzing how the information may impact a consumer," he said.
National DNA Day, celebrated annually on April 25, commemorates the discovery of DNA's double helix structure in 1953 and the completion of the Human Genome Project in 2003, two key milestones in genetics.
ASHG will award monetary prizes to winning students as well as grants for genetics laboratory equipment to eligible teachers. Parsan will receive a $1,000 prize. Lee will receive a $600 prize. Li and Raghavan will each receive a $400 prize.
Honorable mentions were awarded to 11 students, each of whom will receive a $100 monetary prize. The recipients of honorable mentions, listed alphabetically by last name, are:
Kaitlin Chung, a sophomore at Corning Painted-Post High School in Corning, NY
Sarah Gates, a junior at Arlington High School in LaGrangeville, NY
Wooseok Kim, a sophomore at Seoul International School in Seongnam-si, South Korea
Claire Ku, a junior at Oregon Health & Science University in Portland, OR
Kristoff Misquitta, a junior at Stuyvesant High School in New York, NY
Jonas Schwab, a junior at Oregon Health & Science University in Portland, OR
Isabella Stenhouse, a freshman at Stuyvesant High School in New York, NY
Albert Sung, a freshman at St. Andrew's School in Middletown, DE
Advait Thaploo, a junior at Mira Loma High School in Sacramento, CA
Emerson Utgaard, a sophomore at Patrick Henry High School in San Diego, CA
Benjamin Yacht, a junior at Plainview Old Bethpage John F Kennedy High School in Plainview, NY
For details on the 2020 contest winners, including photos and the winning essays, see: https://www.ashg.org/discover-genetics/k-12-education/dna-day/2020-winners/.
About the American Society of Human Genetics (ASHG)
Founded in 1948, the American Society of Human Genetics is the primary professional membership organization for human genetics specialists worldwide. Its nearly 8,000 members include researchers, academicians, clinicians, laboratory practice professionals, genetic counselors, nurses, and others with an interest in human genetics. The Society serves scientists, health professionals, and the public by providing forums to: (1) share research results through the ASHG Annual Meeting and in The American Journal of Human Genetics; (2) advance genetic research by advocating for research support; (3) educate current and future genetics professionals, health care providers, advocates, policymakers, educators, students, and the public about all aspects of human genetics; and (4) promote genetic services and support responsible social and scientific policies. For more information, visit: http://www.ashg.org.
6120 Executive Blvd, Suite 500 | Rockville, MD 20852 | 301.634.7300 | society@ashg.org | www.ashg.org
Connect with ASHG on Twitter (@GeneticsSociety) | Facebook | LinkedIn