For Immediate Release
Thursday, August 9, 2018
10:00 a.m. U.S. Eastern Time
Media Contact:
Ann Klinck
301.634.7342
press@ashg.org
Physician-Scientist to Receive Award at ASHG 2018 Annual Meeting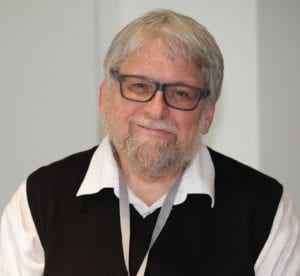 ROCKVILLE, MD – The American Society of Human Genetics (ASHG) has named James R. Lupski, MD, PhD, as the 2018 recipient of the Victor A. McKusick Leadership Award. Dr. Lupski is Cullen Professor of Molecular & Human Genetics and Professor of Pediatrics at Baylor College of Medicine and attending medical geneticist at Texas Children's Hospital in Houston, Texas.
This award, named in honor of the late Victor A. McKusick, MD, recognizes individuals whose professional achievements have fostered and enriched the development of human genetics as well as its assimilation into the broader context of science, medicine, and health. ASHG will present the McKusick Award, which will include a plaque and $10,000 prize, to Dr. Lupski on Tuesday, October 16, during the organization's 68th Annual Meeting in San Diego, California.
"I knew Victor McKusick quite well and have had many meaningful scientific discussions with him," said Dr. Lupski. "He was a terrific physician-scientist, visionary, and true leader, and this award in his name is a tremendous honor for me."
Dr. Lupski's research focuses on understanding mutational mechanisms and linking specific mutations and genes to human disease. Dr. Lupski started his laboratory at Baylor College of Medicine in 1989, where he still resides. His most significant contributions to genomics are centered around conceptualizing and understanding the mechanisms underlying genomic disorders. This is seen through his studies of Charcot-Marie Tooth (CMT) disease – specifically, duplication of the CMT1A gene. In 1991, Dr. Lupski showed that CMT1A copy number variation (CNV) and gene dosage are causes of CMT-related peripheral nerve dysfunction. In 2014, he and his colleagues found that the presence of three copies of CMT1A on one chromosome 17, a phenomenon known as triplication, causes a more severe form of CMT.
His group was also the first to describe non-allelic homologous recombination as a mechanism for CNV formation and chromosomal aberrations. These discoveries, with parallels and potential applications to other genomic disorders, furthered scientific understanding of the relationships between genetic variants and disease outcomes, helped define the field of genomic medicine, and are paving the way for precision medicine.
"This award is a well-deserved recognition of Dr. Lupski's achievements as a physician-scientist and leader in human genetics research," said David L. Nelson, PhD, President of ASHG.
In addition to his scientific leadership, Dr. Lupski received an honorary doctorate in 2011 from the Watson School of Biological Science at the Cold Spring Harbor Laboratory. He has coauthored over 700 scientific publications, including 88 in The American Journal of Human Genetics, and is a co-inventor on more than a dozen USPTO DNA molecular diagnostic patents. A longtime member of ASHG, Dr. Lupski was on the ASHG Board of Directors from 2000-02 and was a member of the ASHG Nominating Committee in 2004.
About the American Society of Human Genetics (ASHG)
Founded in 1948, the American Society of Human Genetics is the primary professional membership organization for human genetics specialists worldwide. Its nearly 8,000 members include researchers, academicians, clinicians, laboratory practice professionals, genetic counselors, nurses, and others with an interest in human genetics. The Society serves scientists, health professionals, and the public by providing forums to: (1) share research results through the ASHG Annual Meeting and in The American Journal of Human Genetics; (2) advance genetic research by advocating for research support; (3) educate current and future genetics professionals, health care providers, advocates, policymakers, educators, students, and the public about all aspects of human genetics; and (4) promote genetic services and support responsible social and scientific policies. For more information, visit: http://www.ashg.org.
6120 Executive Blvd, Suite 500 | Rockville, MD 20852 | 301.634.7300 | society@ashg.org | www.ashg.org
Connect with ASHG on Twitter (@GeneticsSociety) | Facebook | LinkedIn