For Immediate Release
Wednesday, July 11, 2018
12:00 p.m. U.S. Eastern Time
Media Contact:
Ann Klinck
301.634.7342
press@ashg.org
Physician-Scientist to Receive Award at ASHG 2018 Annual Meeting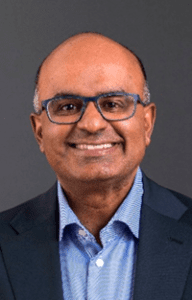 ROCKVILLE, MD – The American Society of Human Genetics (ASHG) has named Sekar Kathiresan, MD, as the 2018 recipient of the Curt Stern Award. Dr. Kathiresan is the Director of the Center for Genomic Medicine at Massachusetts General Hospital, Director of the Cardiovascular Disease Initiative at the Broad Institute of MIT and Harvard, and a Professor of Medicine at Harvard Medical School.
This annual award, named for the late pioneering geneticist Curt Stern, PhD, recognizes genetics and genomics researchers who have made significant scientific contributions during the past decade. ASHG will present the award, which will include a crystal plaque and $10,000 prize, on Tuesday, October 16, during the organization's 68th Annual Meeting in San Diego, California.
"Dr. Kathiresan's research leverages genetic predisposition in preventive care; his work is helping the millions of people at risk for heart attacks and cardiovascular disease," said David L. Nelson, PhD, President of ASHG. "This prestigious award is given to Dr. Kathiresan for his tireless efforts to apply his research to the clinic."
Dr. Kathiresan has pursued a systematic approach to understand the genetics underlying risk of heart attack, to discover its root causes, inform new therapeutic approaches, and identify at-risk individuals. He has distinguished non-causal factors, such as HDL cholesterol, from causal factors, such as LDL cholesterol and triglyceride-rich lipoproteins, and has identified specific mutations in the APOC3 and ANGPTL3 genes associated with a lower heart attack risk. These observations are inspiring the development of medicines to mimic these protective mutations.
In the past year, he has uncovered two additional pathways underlying heart attack risk: (1) genes that regulate the movement of inflammatory cells into the artery wall; and (2) acquired mutations in blood stem cells that increase with aging and provoke inflammation. Finally, he has developed a genetic test to predict risk of heart attack and shown that statin therapy and/or a healthier lifestyle can decrease that risk.
A member of ASHG since 2004, Dr. Kathiresan belonged to the Society's Program Committee from 2011-2014. He has been recognized for his research contributions with several honors including the Stephen Krane Outstanding Young Investigator Award in 2010 from the Massachusetts General Hospital and the Distinguished Scientist Award from the American Heart Association in 2017.
About the American Society of Human Genetics (ASHG)
Founded in 1948, the American Society of Human Genetics is the primary professional membership organization for human genetics specialists worldwide. Its nearly 8,000 members include researchers, academicians, clinicians, laboratory practice professionals, genetic counselors, nurses, and others with an interest in human genetics. The Society serves scientists, health professionals, and the public by providing forums to: (1) share research results through the ASHG Annual Meeting and in The American Journal of Human Genetics; (2) advance genetic research by advocating for research support; (3) educate current and future genetics professionals, health care providers, advocates, policymakers, educators, students, and the public about all aspects of human genetics; and (4) promote genetic services and support responsible social and scientific policies. For more information, visit: http://www.ashg.org.
6120 Executive Blvd, Suite 500 | Rockville, MD 20852 | 301.634.7300 | society@ashg.org | www.ashg.org
Connect with ASHG on Twitter (@GeneticsSociety) | Facebook | LinkedIn