For Immediate Release
Thursday, July 13, 2017
12:00 p.m. U.S. Eastern Time
Media Contact:
Nalini Padmanabhan
ASHG Communications Manager
301.634.7346
press@ashg.org
Geneticist to Receive Award at ASHG 2017 Annual Meeting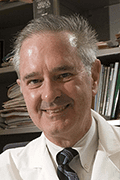 BETHESDA, MD – The American Society of Human Genetics (ASHG) has named John J. Mulvihill, MD, Children's Hospital Foundation—Kimberly V. Talley Chair in Genetics and Professor of Pediatrics in the College of Medicine at the University of Oklahoma Health Sciences Center (OUHSC), and Senior Consultant to the Division of Genomic Medicine in the National Human Genome Research Institute, part of the National Institutes of Health (NIH); as the recipient of its 2017 Mentorship Award.
This award recognizes ASHG members who have significant records of accomplishment as mentors. It is open to individuals at all academic ranks who have shown a sustained pattern of exemplary mentorship at the graduate student, postdoctoral, residency, or fellowship level. The award presentation, which includes a plaque and $10,000 prize, will take place on Friday, October 20, during ASHG's 67th Annual Meeting in Orlando, Florida.
"It's an incredible honor for me to accept this recognition from my colleagues and outstanding mentees, whose careers and lives I've been privileged to touch," said Dr. Mulvihill. "Mentorship in genetics, science, and medicine is a life-long duty and joy."
Over the years, Dr. Mulvihill has founded multiple successful genetics training programs across the country, and has personally mentored trainees across fields and career stages through these programs. In 1983, while serving as Clinical Genetics Section Chief in the National Cancer Institute's Clinical Epidemiology Branch, he helped launch the NIH Interinstitute Medical Genetics Training Program, which he directed until 1989. He then founded the Department of Human Genetics at the University of Pittsburgh, where he served as Professor and Co-Director of the Pittsburgh Genetics Institute until 1998. That same year, he founded the Section of Pediatric Genetics at OUHSC, where he later established the Medical Genetics Residency Program and the Master's Program in Genetic Counseling. His research has focused on the genetics of human cancer, particularly late genetic and reproductive effects in cancer survivors and germ cell mutagenesis.
A member of ASHG since 1974, Dr. Mulvihill has participated as a judge in the Society's DNA Day Essay Contest for high school students since 2013. With ASHG sponsorship, he was Secretary General of the ASHG-International Congress of Human Genetics 1991 meeting in Washington, DC. He co-founded the International Genetic Epidemiology Society in 1991, and has served as co-editor-in-chief of Genetic Epidemiology.
Dr. Mulvihill has received many awards and honors over the years, including the U.S. Public Health Service Distinguished Service Medal in 1988, the National Neurofibromatosis Foundation's Friedrich von Recklinghausen Award in 1989, the College of the Holy Cross' Sanctae Crucis Award in 2006, and the University of Oklahoma's Dr. Henry Turner Lectureship in 2012. He has authored nearly 350 articles in the scientific literature.
About the American Society of Human Genetics (ASHG)
Founded in 1948, the American Society of Human Genetics is the primary professional membership organization for human genetics specialists worldwide. Its nearly 8,000 members include researchers, academicians, clinicians, laboratory practice professionals, genetic counselors, nurses, and others with an interest in human genetics. The Society serves scientists, health professionals, and the public by providing forums to: (1) share research results through the ASHG Annual Meeting and in The American Journal of Human Genetics; (2) advance genetic research by advocating for research support; (3) educate current and future genetics professionals, health care providers, advocates, policymakers, educators, students, and the public about all aspects of human genetics; and (4) promote genetic services and support responsible social and scientific policies. For more information, visit: http://www.ashg.org.
9650 Rockville Pike | Bethesda, MD 20814 | 301.634.7300 | society@ashg.org | www.ashg.org
Connect with ASHG on Twitter (@GeneticsSociety) | Facebook | LinkedIn