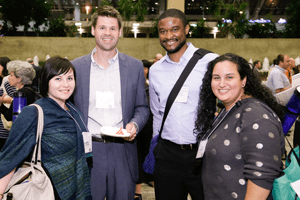 ASHG has celebrated its 75th anniversary all year, but the plans are not over yet. When you come to the 2023 Annual Meeting in Washington, DC on November 1-5, you can expect the normal buzz of the largest gathering of human geneticists in the world, but this year there is even more. Throughout the week, there will be special celebrations marking the Society's 75th anniversary and you, the community of researchers, who make all this possible. To see everything ASHG has released so far this year, check out the ASHG 75th Anniversary Celebrations page. Here's what is in store:
The Big Event – the 75th Anniversary Gala Reception
The final night, November 4, will conclude with the 75th Anniversary Gala Reception from 7:00 to 10:00 pm. Meet new connections, reunite with old friends, and discuss your favorite sessions over drinks, food, and live music. It will be a perfect opportunity after a week of scientific and 75th anniversary celebrations to reflect on your own contributions to the field, what you hope to see in the future of the Society, and what "One Humanity, Many Genomes™" means to you. Register for the Annual Meeting today – we can't wait to celebrate with you.
Hear from your Peers!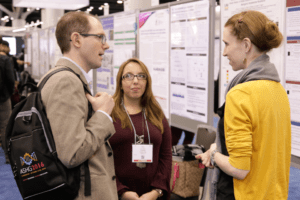 The ASHG community spans research focuses, corners of the globe, and career stages. ASHG interviewed members from across the field to gather how their personal experiences have intertwined with professional goals and aspirations. From past presidents to winners of the Early Career Award, these profiles illustrate how their work and motivations combine to create meaningful and productive careers. Look for these profiles in the Convention Center, learn about their stories, dive deeper into their contributions, and reflect on how your own achievements and professional goals have contributed to your career.
Capture the Moment at the 75th Anniversary Selfie Station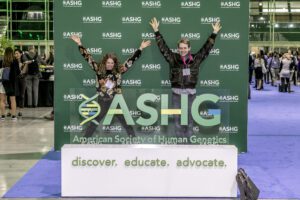 Commemorate your time in Washington, DC with your community by utilizing the special 75th anniversary selfie station! This year is a special time to recognize a momentous 75 years while also looking to the new breakthroughs and envisioning what is to come in science, health, and society. Gather a group or get a solo shot to capture the memory of what will certainly be a week to remember. If you post on social media, be sure to use the official meeting tag, #ASHG23.
Catch the Video Celebrating "One Humanity, Many Genomes™"
Look for the newest video celebrating the 75th anniversary around the Convention Center. Leaders in the field reflected on what 75 years of ASHG means to them and what they hope to see in the coming years through the lens of the celebration theme, "One Humanity, Many Genomes™." Whether it is your first experience as an ASHG member or this has been your home Society for years, all members can look at the amazing progress so far and exciting prospects to come.