ASHG and the National Human Genome Research Institute (NHGRI) co-sponsor two fellowships annually to support early-career genetics and genomics professionals with an advanced degree who wish to make a career transition.
Applications for the 2022-23 ASHG fellowships

closed on April 25, 2022

.
We will begin accepting applications for the 2023-24 fellowship in February.
Fellowship Overviews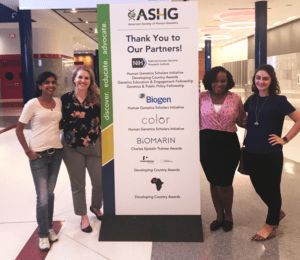 The Genetics & Public Policy Fellowship, offered annually since 2002, is designed for individuals interested in the development and implementation of genetics-related health and research policies at a national level. The fellow will have the opportunity to participate in policy analysis at NHGRI and ASHG, and to work directly within the U.S. Congress.
The Genetics Education & Engagement Fellowship is designed for individuals interested in developing and implementing genetic and genomic literacy, engagement, diversity, and/or professional development initiatives for K-12, undergraduate, graduate, post-graduate, and professional audiences. The fellow will participate in rotations at NHGRI and ASHG, and typically a third organization involved in genetic and genomic literacy, engagement, diversity, or professional development.
Key Details
Fellowship duration: 16 months, starting in late August or early September
Application window: February through April
Eligibility: Applicants must have advanced training in genetics/genomics and be eligible to work in the United States
Compensation package: Annual $76,000 stipend, plus benefits
Number of positions: One per year
Other Fellowships and Grants
Explore fellowship and grant opportunities from other organizations.