From the President's Desk: Leslie Biesecker, MD
September 2019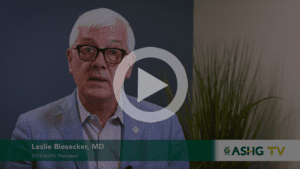 It's hard to believe there is just about a month left until the ASHG 2019 Annual Meeting! As always, I'm excited to connect with new and old colleagues from around the world, and to take in the latest scientific advances and perspectives.
This year's schedule promises plenty of good content, with scientific sessions and other events that reflect our field's visionary thinking and multidisciplinary energy.
CRISPR and Genome Editing
In the past decade, CRISPR-Cas9 gene editing has been revolutionary in human genetics and genomics, and ASHG 2019 has many sessions on the topic. These range from a scientific introduction, to more advanced discussion, to an exploration of its social and ethical implications.
For those who are just getting started, the CRISPR-Cas9 Genome Editing Bootcamp provides practical, hands-on instruction on how to use gene editing technologies, including applications such as base editing, epigenome editing, and alternative CRISPR enzymes. If you're familiar with CRISPR techniques, the platform session CRISPR-Based Approaches to Study Genome Function might provide ideas for how to refine and build upon your gene editing work.
I'm especially excited about the ASHG Forum: Perspectives on Germline Gene Editing Regulation, which will convene Dame Kay E. Davies, co-chair of the International Commission on the Clinical Use of Human Germline Genome Editing; Victor Dzau, President of the National Academy of Medicine; and Robin Lovell-Badge from The Francis Crick Institute. Attend this session to hear from and engage with global leaders thinking about the appropriate use of germline genome editing.
Events to Support Workforce and Research Participant Diversity
Another thread running through the 2019 meeting schedule is diversity – an important priority for the field and for our strategic plan. The Diversity Breakfast, featuring a discussion of ways to mitigate unconscious bias, aims to mentor trainees from underrepresented minority groups and help build a culturally diverse workforce of biomedical researchers. The Diversity Reception the following evening recognizes and celebrates the importance of diversity and provides a networking opportunity for the research and training community.
Diversity and inclusion among research participants go hand-in-hand with that of the genetics workforce; it's only by including diverse populations in our research that we can truly understand the effect of genetics and genomics on health. An invited session on The Intersection of Genetics and the Disability Rights Movement encourages conversation on the impact of prenatal genetic screening and testing on historically stigmatized populations. Another session, Value Assessment of Genomic Testing from Diverse Stakeholder Perspectives in Health Services, stresses the importance of cross-disciplinary dialogue in the real-world implementation of genomic testing. And this year's Advocacy Award recipient, Rick Guidotti of Positive Exposure, uses visual arts to present the humanity and dignity of people living with genetic, physical, behavioral, and intellectual differences.
Trainee Engagement and Career Opportunities
Representing one-third of our meeting attendees and membership, genetics and genomics trainees are an important part of the ASHG community. The meeting has many events geared towards students, postdocs, and clinical fellows, including opportunities to network with peers and find like-minded mentors, and daily professional development programs.
In addition, attendees at any experience level can benefit from career opportunities like our first-ever Career Fair, where attendees can connect with exhibiting companies that are actively hiring. Those looking to improve their genetics teaching abilities may want to attend the Undergraduate Faculty Genetics Education Workshop, which focuses on pedagogy and will be themed around environmental influences on genetic risk.
Genetic Exceptionalism and an Unexceptional President
Finally, I want to put in a big plug for the Presidential Symposium. One of my goals as President is to do everything possible to position genetics and genomics in the mainstream of biology and medicine. I want all of us to work to reduce barriers that impede the widespread uptake and usage of genetic and genomic technology and thinking. It is my view that this objective is essential for the success of every member of ASHG and for the field as a whole and for us to achieve our vision – which is that people everywhere benefit from genetics and genomics research.
One of those barriers is exceptionalism and to that end I have recruited three speakers to tackle this from the perspectives of the history of exceptionalism, the behavioral science of exceptionalism, and what exceptionalism looks like in the clinical setting. I eagerly anticipate this session and hope that we can have broad engagement on this important topic. Anticipating the Presidential Symposium will be my Presidential Address – but I'm holding back on teasers for that – you'll just have to attend to find out what that title is about.
I'm looking forward to seeing you this October, to strengthening old connections and forging new ones as we gather in Houston and continue to advance our field together. Until next month!