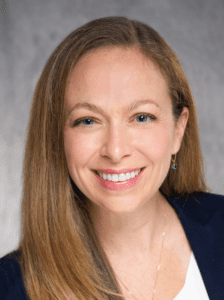 The Access to Genetic Counselor Services Act was introduced in the U.S. House of Representatives (H.R. 2144) and the U.S. Senate (S. 1450) to recognize certified genetic counselors as healthcare providers and authorize the Centers for Medicare and Medicaid Services (CMS) to reimburse genetic counselors directly for the genetic counseling services they provide to Medicare beneficiaries.
We recently spoke with Colleen A. Campbell, PhD, MS, LGC, in her role as the Chair of the National Society of Genetic Counselors (NSGC) Advocacy Coordinating Committee, to learn more about this bill and what it means for the fast-growing profession of genetic counseling.
Why is the passage of the Access to Genetic Counselor Services Act so important for genetic counseling?

H.R. 2144/S. 1450, the "Access to Genetic Counselor Services Act" is critical for genetic counselors, and more importantly for our patients, as it will provide Medicare provider status for genetic counselors and significantly increase access to our services. The goal is to ensure that more people benefit from appropriate genetic services. Currently, other providers can be reimbursed by Medicare for providing genetic counseling services, but genetic counselors cannot be reimbursed by Medicare due to the lack of provider status. These other providers may have little to no training in genetics. Recognition of genetic counselors as providers by Medicare will enable genetic counselors to be reimbursed for their services thereby providing a sustainable future for the field of genetic counseling.

When genetic counselors are embedded throughout the health system, they can help raise the baseline knowledge and utilization of genomics by all providers to improve the care of their patients. Without provider status under the Medicare statute, genetic counselors are unable to deliver services in a manner that is consistent with their state licensure which creates a two-tiered system for accessing their services. For example, I can see non-Medicare patients without physician supervision according to my state license. However, because genetic counselors do not have Medicare provider status, Medicare patients first must see a physician in a face-to-face visit, be referred to genetic counseling, then I need to coordinate my schedule with both the patient and a supervising physician who will be in the clinic when I see the Medicare patient. Physicians are not always in the clinic, so these additional requirements reduce the number of patient slots available for Medicare patients.

By enacting this legislation, Congress can eliminate these barriers so more patients have access to genetic counselors and the benefits of genomic medicine.

What are the disparities of care you see in genetic counseling and how does this bill increase access to services?

There are several disparities I think this bill can help lessen.

First, employers of genetic counselors are generally academic medical centers, larger more well-off hospitals and physician practices, or large systems where organizations can carry the cost of hiring genetic counselors. Some hospitals will hire genetic counselors and absorb the cost because they have a hard time recruiting physicians and researchers if the hospital does not employ genetic counselors. When only financially strong institutions can hire genetic counselors, this leads to significant disparities in areas that are socioeconomically disadvantaged and in rural areas. Smaller organizations, often those that are financially challenged, just can't afford to hire genetic counselors and people living in areas served by those organizations often don't have access to our specialized services. For example, I am often contacted by community hospitals that would like to provide genetic counseling services for their patients but are not sure how to fund a genetic counselor position since genetic counselors are not yet reimbursed by Medicare. These community hospitals would like to provide optimal care for their patients but are limited by the lack of reimbursement.

Second, hospitals that currently offer telehealth for genetic counseling either have contracts with companies or other hospitals. These hospitals either absorb the cost of the genetic counseling appointments, or their patients must pay out of pocket for genetic counseling. Both models can contribute to disparities in access to genetic counselor services. Our bill would help reach patients in many areas with disparities via telehealth. Those patients that do not have in-person access to genetic counselors could have access by telehealth (as a reimbursed service) when the bill is enacted.

Third, there are disparities in who is entering the field of genetic counseling. This bill will help alleviate some of those disparities by providing hospitals with a Medicare revenue stream that can support a genetic counselor position. Therefore, we anticipate some of the smaller and more rural hospitals will be able to create new well-paying jobs. As a result, there will be more clinical supervisors to recruit and train future genetic counselors. Billing and reimbursement are paramount for a secure job market, and a secure job market will enable more people to enter the profession of genetic counseling and help serve more individuals who currently have little to no access to genetic counselors.

How is NSGC engaging with policymakers to build support for this bill?

It is a multi-faceted approach. Part of it is outreach to groups like ASHG, to work with them to have their members engage members of Congress on the issue. We are grateful for the 300 organizations that support the bill. I lead the National Society of Genetic Counselors (NSGC) Advocacy Coordinating Committee. This committee was formed in 2021 and is the grassroots effort to generate support for this important legislation. The committee collaborates with NSGC government relations staff and coordinates outreach, communication and education focused on building cosponsors for H.R. 2144/S. 1450. They also recruit additional NSGC members, employers, other providers and their professional societies, patient advocacy groups, and other supporters to engage Congress.

This year alone we've met with approximately 90 congressional offices as well as the House Energy and Commerce Committee, House Ways and Means Committee, and the Senate Finance Committee. Our focus has been on these three committees as they have jurisdiction over our issue. We also have a team of advocates through Capitol Counsel who are regularly engaging Congress and the White House on our issue.

All these efforts are having an impact as we have more co-sponsors this year than we have ever had before.

How does this bill relate to President Biden's reenergization of the Cancer Moonshot?

In August of 2016, NSGC leaders met with the National Cancer Institute to discuss the original Cancer Moonshot initiative and the lack of provider status for genetic counselors under Medicare. In January of this year, we provided the White House with some updated information. As part of the reignited Cancer Moonshot, President Biden formed a Cancer Panel of scientific experts, this panel included Heather Hampel, a member of the NSGC Board of Directors. The panel made several recommendations – one is to add genetic counselors to the Medicare program. This is a huge step forward for us and is the only recommendation by the Cancer Panel that needs congressional approval.

The panel made this recommendation as they understood the challenges faced by Medicare beneficiaries in accessing genetic counselor services. The panel recognized the value of genetic counselors and that recognition of genetic counselors as Medicare providers will "allow genetic counselors to contribute their specialized knowledge and skills to medical teams working to deliver high-quality care to patients at elevated risk for cancer and other diseases."

The reenergized Cancer Moonshot aims to expand cancer screenings in an equitable manner, and the panel recognized genetic counselors have a key role in ensuring Medicare patients have access to appropriate genetic testing that leads to personalized cancer screening. We are grateful for the support of the White House, and we are hopeful Congress will take action this year.

What are the prospects for Congress passing the Access to Genetic Counselor Services Act this year?


President Biden's Cancer Moonshot certainly improves our chance of Congress enacting the bill this year. The bill has been gaining momentum, and currently has 46 cosponsors in the House and 6 cosponsors in the Senate. We believe the Congressional committees understand the importance of the issue in terms of translating many of the innovative genomic medicine breakthroughs that many ASHG members have been involved with, to the delivery of precision medicine and the role genetic counselors play in ensuring these breakthroughs reach patients. This bill really will change how patients are able to access current genetic services and the innovation that is changing patient care on a daily basis. Congress needs to ensure patients have access to providers who can fully utilize the innovations in genetics and genomics to benefit patient care.

With the help of supporters and organizations like ASHG we are hopeful the bill will have a good chance of being included in a legislative package that passes this year. We greatly appreciate the support of ASHG for helping us achieve the goal of improving access to genetic services for everyone.
ASHG supports this legislation, in close partnership with the National Society of Genetic Counselors (NSGC). Go to NSGC's website for more information about this bill.
Ask your members of Congress to cosponsor the Access to Genetic Counselor Services Act (H.R.2144/S.1450).