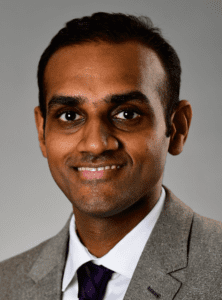 Arvind Kothandaraman is a member of the American Society of Human Genetics (ASHG) Public Education and Awareness Committee (PEAC), and Managing Director of Specialty Diagnostics at PerkinElmer, Inc. His primary professional interest is in equipping clinical laboratories with the tools needed to meet their technical and operational goals. Through his work and community relationships, he has identified the need and opportunity to spread awareness of advancements in genetics research as it relates to human health. He has dedicated time over the years to invite community members and local school groups to attend lab tours. ASHG discussed his approach to public engagement and education.
ASHG: How did you get started in public engagement and education?
Kothandaraman: I believe that medicine driven by human genetics and genomics research is at the cusp of a major revolution. Like any other revolution in history, the success of human genetics revolution is going to be driven by the masses. Unlike many other technology-driven revolutions, scientific advancement in human genetics has far outpaced public education and awareness. If left unaddressed, the consequences of this widening gap can be devastating and can manifest itself in many undesired forms such as misinformed medical choices.
ASHG: Tell us about some of the lab tours you've hosted. Were there any that led to an important realization from the group, or even from you?
Kothandaraman: I am passionate about bridging the awareness gap to ensure that justice is done to the distance that the human genetics community has traveled. I have found lab tours to be a seemingly small but solid step in the right direction. I believe that high priority should be given to educating students and equipping them to make informed decisions as this the most efficient way to shape tomorrow's world.
ASHG: What are the common questions you are asked about human genetics and how do you answer them?
Kothandaraman: Some of the most intriguing questions have come from those who are curious to understand how research in human genetics is bound to affect them and their immediate community – the subjects have ranged from cancer genetics to cosmetics. Anecdotes and examples from personal experience are powerful tools to handle such questions.
ASHG: How do you make time for public education and engagement?
Kothandaraman: I have discovered that teaching is very refreshing to the mind and allows me to stay grounded. What meditation is to some, teaching is to me.
ASHG: What's the best memory you have of one of your educators when you were a student?
Kothandaraman: I consider every interaction to be a learning opportunity. These learning moments have taught me that people who have a deep understanding of a subject are the ones who can explain it in a simple fashion – this realization was a turning point in my life.
ASHG: What's the one thing you want the public to know about human genetics?
Kothandaraman: My mom makes a convincing argument about most things in life, the rest can probably be explained by genetics. Such is the power of this field. However, anyone with access to an internet connected device may come across as an expert. Each one of us should do our part in facilitating the transformation from the age of information to the age of "credible" information.