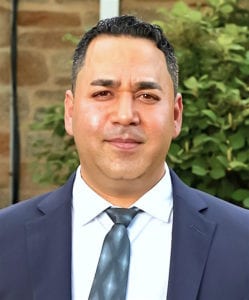 Trainee Author: Ariel F. Martinez, PhD, MB (ASCP)
Biologist
National Human Genome Research Institute, National Institutes of Health
(Photo courtesy Martinez)
Martinez AF, et al. An Ultraconserved Brain-Specific Enhancer Within ADGRL3 (LPHN3) Underpins Attention-Deficit/Hyperactivity Disorder Susceptibility. Biological Psychiatry. 2016 Dec 15;80(12):943-954
This is the first study to show functional evidence as to how common non-coding variants can potentially contribute to ADHD pathology. Several ADHD-associated variants were identified within evolutionarily conserved elements of the ADGRL3 gene.
Through in vitro & in vivo approaches, Martinez et al. identified a transcriptional enhancer that is active in neural cell lines and in the zebrafish brain. One particular variant associated with ADHD disrupts the ability of this enhancer element to bind an important neurodevelopmental transcriptional factor, YY1, which could be involved in ADHD pathology. Analysis of postmortem human brain tissue found an association between the risk variant and reduced ADGRL3 mRNA expression in the thalamus, a key brain region for coordinating sensory processing in the brain.
Overall, this study uncovers the role of non-coding variants in the etiology of a ADHD and provides supporting evidence linking ADGRL3 to a potential pathophysiological mechanism.
ASHG: Could you describe your research for us?
Dr. Martinez: My current research is focused on the genetics of human developmental conditions, both monogenic and complex, including holoprosencephaly, congenital heart anomalies, fatty liver disease, and ADHD. On a broad level, I'm interested in understanding the molecular mechanisms underlying disease pathogenicity with the ultimate goal of developing new translational applications.
ASHG: What are your career goals?
Dr. Martinez: I recently finished a two-year fellowship program in Clinical Molecular Genetics. Although I have spent most of my professional life doing molecular and clinical research, I am considering switching gears to clinical diagnosis in the private sector. Diagnostic tests are at the forefront of medical innovation, providing valuable insights into patient health and transforming disease management. Molecular diagnosis has the potential to fundamentally change clinical practice by matching the right patient with the right treatment.
ASHG: Why did you choose genetics as your field of study?
Dr. Martinez: Every single human disease has a genetic basis. Therefore, anybody studying human disease is inevitably involved with genetics. For several years, I did molecular research on plant resistance to pests, osteoclast biology, and respiratory diseases, but then in 2008 I started working for a new PI, Dr. Mauricio Arcos-Burgos, who was (and still is) studying the genetics of ADHD. I instantly fell in love with clinical genetics and the challenges of studying complex traits.
ASHG: If you could pick three words that describe yourself, what would they be?
Dr. Martinez: Daring, Determined, Patient.
The Trainee Paper Spotlight highlights outstanding papers written by trainee members of ASHG.  Submit your science to be featured, and join the ASHG Trainee Forum to keep up with new ones.