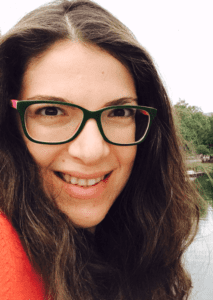 Trainee Author: Eirini Marouli, PhD
Postdoctoral Research Associate
William Harvey Research Institute
Barts and The London School of Medicine and Dentistry
Queen Mary University of London
(Photo courtesy Marouli)
Marouli E, et al. Rare and low-frequency coding variants alter human adult height. Nature. 2017 Feb 9;542(7640):186-190
This paper greatly expands our understanding of the role of rare variation in the genome with respect to a complex human trait: height. Marouli et al.'s massive GWAS for rare and low-frequency variants identifies 83 rare height-associated variants that are either non-synonymous or splice-site mutations. These rare variants on average have larger effect sizes compared to common variants, supporting the idea that variants with large phenotypic effects are more likely to be deleterious and maintain low allele frequencies.
Finally, the authors perform functional follow up studies for one of their highlighted genes (STC2), in vitro. The effect of height increasing variants in STC2 is likely due to partial loss of function of this gene, resulting in higher bioavailability of insulin-like growth factors. This study will serve as a model for investigating the role of rare variation on complex human traits.
ASHG: Could you describe your research for us?
Dr. Marouli: My research interests lie at the interface of genetics, bioinformatics and statistics to achieve a better understanding of human biology and disease. I am focusing on the identification of common and rare genetic variants associated with complex traits (adult height and adiposity) and cardiometabolic diseases. In addition, I am investigating the causal role of risk factors on disease, by applying Mendelian randomization approaches.
ASHG: What are your career goals?
Dr. Marouli: My overarching research goal is to understand human biology of complex traits, the mechanisms involved and how genetic alterations lead to disease. I aim to contribute to the big steps towards "precision medicine" and be part of the new era of genomic health.
ASHG: Why did you choose genetics as your field of study?
Dr. Marouli: I wanted to understand life and humanity. Genetics is a very fast evolving field and a constant brick wall of challenges: the more we discover the more questions are created and need to be answered. In this field I saw the opportunity to connect basic research findings with patient benefit.
ASHG: If you could pick three words that describe yourself, what would they be?
Dr. Marouli: Curious, thinker, tenacious.
Twitter: @MarouliEirini
The Trainee Paper Spotlight highlights outstanding papers written by trainee members of ASHG.  Submit your science to be featured, and join the ASHG Trainee Forum to keep up with new ones.