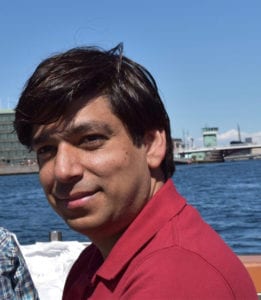 Trainee Author: Zafar Iqbal, PhD
Researcher
Oslo University Hospital, Oslo, Norway
(Photo courtesy Iqbal)
Riazuddin S, Hussain M, Razzaq A, Iqbal Z, et al. Exome sequencing of Pakistani consanguineous families identifies 30 novel candidate genes for recessive intellectual disability. Molecular Psychiatry (2017) 22, 1604-1614
This multi-investigator exome sequencing project aims to discover pathogenic mutations for autosomal recessive intellectual disability in a unique sample of families from Pakistan that contain consanguineous marriages. It illustrates how population genetics can be mined to pinpoint potentially causal genetic variants for a complex phenotype by using unique samples, state-of-the-art sequencing and bioinformatics methods, as well as open access gene expression databases.
In addition to the scientific findings, the study epitomizes the spirit of international collaboration and diversity.
ASHG: Could you describe your research for us?
Dr. Iqbal: I have been investigating the molecular causes of neurological disorders by high throughput sequencing technologies. I am also exploring the functional role of non-coding DNA to improve molecular diagnosis. In addition, I am devising molecular diagnostic strategies for various neurological disorders.
ASHG: What are your career goals?
Dr. Iqbal: Being a geneticist, my goal is to contribute to the knowledge of molecular genetics that could be used to improve human health. Specifically, I aim to improve genetic diagnosis, ultimately culminating in possible therapeutic interventions.
ASHG: Why did you choose genetics as your field of study?
Dr. Iqbal: As a student of biology, I have been fascinated with understanding how complex processes work in an extremely organized way in a cell. As genetics is the source of this great orchestration, furthering understanding of genetics in health and disease is therefore one of the best ways to disentangle complex systems of a cell.
ASHG: Describe yourself in three words.
Dr. Iqbal: Compassionate, Curious, Enthusiastic.
The Trainee Paper Spotlight highlights outstanding papers written by trainee members of ASHG.  Submit your science to be featured, and join the ASHG Trainee Forum to keep up with new ones.