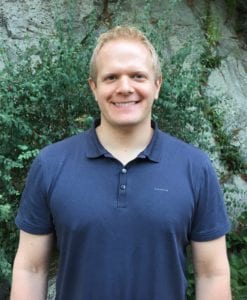 Trainee Author: Michael D. Gallagher, BS, PhD
Postdoctoral Associate
Whitehead Institute for Biomedical Research
(Photo courtesy Gallagher)
Gallagher MD, et al. A Dementia-Associated Risk Variant near TMEM106B Alters Chromatin Architecture and Gene Expression. AJHG. 2017 Nov 2;101(5):643-663
This paper is a prime example of how to mechanistically follow up on a GWAS result. Gallagher et al.'s comprehensive study not only identifies the causal variant at the 7p21 locus for frontotemporal lobar degeneration, a fatal neurodegenerative disease, but then goes on to demonstrate how the risk allele affects cellular health, via CTCF-mediated changes in the expression levels of the causal variant target gene, TMEM106B.
The range of techniques used includes fine-mapping, gene expression analysis, cytotoxicity assays, chromosome conformation capture, ChIP-seq, EMSA, and reporter assays. This study is a model for how biological insights can be gained from following up GWAS results.
ASHG: Could you describe your research for us?
Dr. Gallagher: I'm interested in the genetic, molecular and cellular bases of neurodegenerative diseases, particularly Alzheimer's disease and other dementias. I am particularly interested in the epigenetics and gene regulatory processes of neuronal and glial cell types, and how these processes affect disease risk and progression.
ASHG: What are your career goals?
Dr. Gallagher: My goal is to become an independent investigator at a research-intensive biomedical institution.
ASHG: Why did you choose genetics as your field of study?
Dr. Gallagher: Genetics plays a major role in virtually every aspect of our lives, from personality traits to physical and mental health. However, the functions of the non-coding genome and the millions of genetic variants that differ between individuals are only beginning to be understood. I believe that improving our understanding of the human genome, genetic variation, and gene regulation will drastically improve our understanding of the causes of many human diseases, and how to better treat them.
ASHG: If you could pick three words that describe yourself, what would they be?
Dr. Gallagher: Pathologically-curious, science-addict, persistent.
Twitter: @mdgallagher71
The Trainee Paper Spotlight highlights outstanding papers written by trainee members of ASHG.  Submit your science to be featured, and join the ASHG Trainee Forum to keep up with new ones.