Published: Tuesday, July 25, 2023, 12:00 p.m. U.S. Eastern Time
Media Contact: Kara Flynn, 202.257.8424, press@ashg.org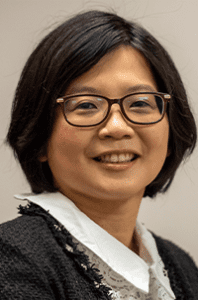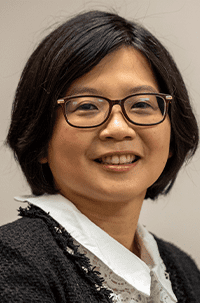 ROCKVILLE, MD – The American Society of Human Genetics (ASHG) has named Lei-Shih (Lace) Chen, PhD, as the 2023 recipient of the ASHG Education Award. Dr. Chen is a Professor in the Department of Health Behavior, School of Public Health at Texas A&M University.
This award, which includes a $10,000 prize, recognizes outstanding contributions to human genetics education.
"The ASHG Education Award aims to recognize a person who has made both national and international contributions in more than one area and of substantive influence," said ASHG President Brendan Lee, MD, PhD. "Dr. Chen exemplifies this award completely. Her work is multidisciplinary and considers both the patients and the health providers working with the patients. We are honored to provide this award to Dr. Chen."
Throughout her career, Dr. Chen's work has directly impacted the local and professional community around her. Recognizing that there was a lack of genetic practitioners in Texas, she designed, implemented, and evaluated the first theory-based genomics education program for health educators and English, Spanish and Chinese-speaking community health workers (CHWs). As a result, within six months more than 2,500 lay people were provided genomics education and services. One of her greatest research interests is in autism spectrum disorders (ASD), for which genetic testing is not often utilized. To address this, Dr. Chen led a multidisciplinary team investigating the genetic testing concerns and educational needs of both U.S. and Taiwanese parents of children with ASD. She also has impressive success in funding and publishing. In the last decade, she has obtained funding for over 30 grants at a total of about $12 million and has published more than 60 peer-reviewed articles. Additionally, she has co-authored over 100 national and international conference presentations and often seeks to provide training and education to public health professionals who serve racial and ethnic minority populations.
"Dr. Chen has made significant contributions to the growth and development of health educators and community health workers, which subsequently served to improve the well-being of individuals with disabilities, racial and ethnic minorities, and other underserved communities," said Adam E. Barry, PhD, Department Head of the Department of Health Behavior at Texas A&M University in his nomination letter. "The undergraduate students, graduate students, and postdoctoral research associates she has mentored will continue contributing to the health education and behavioral health fields long into the future."
Dr. Chen received her PhD from Texas A&M University, where she also completed her post-doctoral research. She had been part of the Department of Health and Kinesiology at Texas A&M University from 2009 to 2022, with Adjunct Visiting Professor positions at Asia University and National Chung Hsing University, both in Taiwan. Her research interests include precision public health, ASD, cancer prevention and control, health disparities, and disabilities. She is a member of the ASHG Professional Practice and Social Implications Committee. Dr. Chen is also a mother of a child with ASD and infantile spasms. Her son, Grant, motivates her to conduct research, provide education and training for various groups, and help underserved communities.
* * *
About the American Society of Human Genetics (ASHG)
Founded in 1948, the American Society of Human Genetics is the primary professional membership organization for human genetics specialists worldwide. Its community of nearly 8,000 members include researchers, academicians, clinicians, laboratory practice professionals, genetic counselors, nurses, and others with an interest in human genetics. The Society serves scientists, health professionals, and the public by providing forums to: (1) share research results through the ASHG Annual Meeting and in The American Journal of Human Genetics and Human Genetics and Genomics Advances; (2) advance genetic research by advocating for research support; (3) educate current and future genetics professionals, health care providers, advocates, policymakers, educators, students, and the public about all aspects of human genetics; and (4) promote genetic services and support responsible social and scientific policies. For more information, visit: http://www.ashg.org.
6120 Executive Blvd, Suite 500 | Rockville, MD 20852 | 301.634.7300 | society@ashg.org | www.ashg.org
Connect with ASHG on Twitter (@GeneticsSociety) | Facebook | LinkedIn