Published: Tuesday, July 25, 2023, 12:00 p.m. U.S. Eastern Time
Media Contact: Kara Flynn, 202.257.8424, press@ashg.org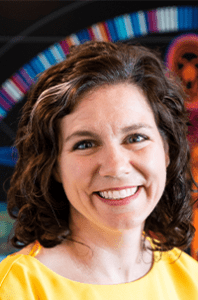 ROCKVILLE, MD – The American Society of Human Genetics (ASHG) has named Karen Miga, PhD, as the 2023 recipient of the ASHG Early Career Award. Dr. Miga is an Assistant Professor in the Biomolecular Engineering Department at the University of California, Santa Cruz (UCSC) and Associate Director at the UCSC Genomics Institute. She is the co-lead of the Telomere-to-Telomere (T2T) consortium and the Project Director of the Human Pangenome Reference Consortium (HPRC) Production Center at UCSC. Dr. Miga is one of two award recipients in 2023.
This award recognizes scientists who are in the early stages of their career as independent investigators. This award will include a $5,000 prize.
"So far in the early stages of her career, Dr. Miga has already had a significant impact on the field of human genetics and genomics," said ASHG President Brendan Lee, MD, PhD. "We are honored to recognize her work on genome structure and sequencing that have pushed the field forward in ways few people thought could be done."
Dr. Miga is considered to be a world-leading researcher in satellite DNA genomics and long-read sequence technologies. Her interest in unmappable regions began early in her graduate training when she articulated her scientific goal of closing the gaps spanning each human centromere region. In 2019, she continued to pursue that goal by creating and co-leading the Telomere-to-Telomere (T2T) consortium. By April 2022, a complete human genome had been assembled. This was considered to be an impossible task by many. The team had added almost 200 million new base pairs to the original GRCh38 genome, which resulted in what Nature has called "the final chapter of the Human Genome Project." In her role as Director of the Human Pangenome Reference Center, she aims to produce population-based centromere assemblies to map genomic variation and link it to human genetic disease. As an independent investigator, Dr. Miga's lab combines innovative computational and experimental approaches to produce the high-resolution sequence maps of human centromeric and pericentromeric DNAs.
"Karen's persistence and leadership provides clear evidence of a determined and fertile mind that – even within just a few years – has provided insights into the human genome that will serve the worldwide community of geneticists for many years to come," said Professor Ewan Birney FRS CBE, Deputy Director General European Molecular Biology Laboratory (EMBL), Director EMBL's European Bioinformatics Institute (EMBL-EBI), in his nomination letter. "She has demonstrated her ability to inspire, engage, and empower audiences everywhere – from scientists to students to members of the public. To me, she is a rare talent, and we are just beginning to see the impact that she can bring to our field for many years to come. She is a leader now, and I know she will continue to lead in the future."
Dr. Miga obtained her master's degree from Case Western Reserve University in Dr. Evan Eichler's laboratory and completed her doctoral research at Duke University, where she was supervised by Dr. Huntington Willard. She joined Dr. David Haussler's laboratory in 2012 as a postdoctoral scholar at the University of California, Santa Cruz. She was named "One to Watch" in the 2020 Nature's 10, an annual list of ten scientists produced by the scientific journal Nature. In 2022, TIME named her one of the 100 most influential people.
* * *
About the American Society of Human Genetics (ASHG)
Founded in 1948, the American Society of Human Genetics is the primary professional membership organization for human genetics specialists worldwide. Its community of nearly 8,000 members include researchers, academicians, clinicians, laboratory practice professionals, genetic counselors, nurses, and others with an interest in human genetics. The Society serves scientists, health professionals, and the public by providing forums to: (1) share research results through the ASHG Annual Meeting and in The American Journal of Human Genetics and Human Genetics and Genomics Advances; (2) advance genetic research by advocating for research support; (3) educate current and future genetics professionals, health care providers, advocates, policymakers, educators, students, and the public about all aspects of human genetics; and (4) promote genetic services and support responsible social and scientific policies. For more information, visit: http://www.ashg.org.
6120 Executive Blvd, Suite 500 | Rockville, MD 20852 | 301.634.7300 | society@ashg.org | www.ashg.org
Connect with ASHG on Twitter (@GeneticsSociety) | Facebook | LinkedIn