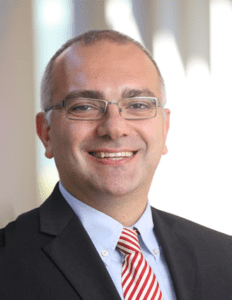 The world's greatest in the human genetics and genomics field are set to convene at the ASHG 2023 Annual Meeting this November 1-5, in Washington, DC, for what promises to be an exciting five days of  sharing science, networking, and learning.
As we embark on the annual meeting season, which kicked off with the opening of abstracts and registration, ASHG Program Committee Chair, Mete Civelek, PhD. He provided his insights on what attendees can expect this year especially as it marks a historic moment as ASHG celebrates its 75th year anniversary.
Here is what you can look forward to:
Groundbreaking Science Covering the Breadth of the Field
"Attendees can expect to see cutting-edge science," according to Civelek. "But that is not all. There will be panel discussions with topics ranging from precision medicine applications to artificial intelligence and machine learning approaches in genetics. The field is highly technology driven." He said, "There is an ever-growing number of participants from diverse genetic ancestries in population studies and there are numerous studies from biobanks in the U.S. and around the world. It is also very exciting to see the clinical translation of our genetic discoveries and even U.S. Food and Drug Administration (FDA) approved therapies." In addition, he indicated that attendees can expect industry partners to showcase their latest products in the exhibit hall which is bound to bring the excitement around tools that can further push research forward.
A Robust 2023 Program Reflecting ASHG's Commitment to Diversity, Equity and Inclusion

According to Civelek, ASHG values diversity because it catalyzes productivity in the genetics and genomics scientific space, fosters the professional success of ASHG's members, increases the vitality of the organization, and enhances the societal relevance and impact of research. "We always try to balance our programming on numerous factors as we want to present the most exciting and cutting-edge science," he said. "But of course, we also want to present an exciting program that represents the topics that our members study ranging from Mendelian disorders to complex diseases, from statistical genetics method developments to clinical genetics. When we do that, we also pay attention to the diversity of our presenters in terms of where they are in their careers, their institutions and geographic locations, gender, ethnicity and race. We strive to be inclusive and want our membership to be represented in our programming."
Reflection on the Future of the Society and the Field
With ASHG celebrating its 75th anniversary this year, there is a lot to reflect on as a Society and as a field. "I am happy to say that ASHG is in a very strong position thanks to the engagement of our members," Civelek said. "I think society will grow in the future and embrace more people like me. I studied chemical engineering during my undergraduate education and learned human genetics during my postdoctoral fellowship. As more scientists realize the power of genetics, I think you will see more converts like me." He said in the future he expects to see even more studies performed in populations with diverse genetic ancestries. "I believe we will see more artificial intelligence (AI) and machine learning applications in both statistical genetics approaches and clinical and diagnostic applications," he predicted. "Of course, it is always very gratifying to witness how our discoveries are translated into therapies and I am sure we will see more of that in both the rare and complex disease arenas. Our attendees will have a wonderful opportunity this year to hear about the future of human genetics from some of the most exciting scientists in our field during our Distinguished Speaker Symposium that will close our meeting this year. The program committee, which consists of about 30 human geneticists put together this session with an eye toward the future."
There is no doubt ASHG 2023 has a lot in store for attendees. The Society looks forward to welcoming geneticists this November for a front row seat to all the action! To stay up-to-date on the latest information, please visit ASHG's website.
Important Dates & Deadlines
Early-Bird Registration: August 24
Helpful Links