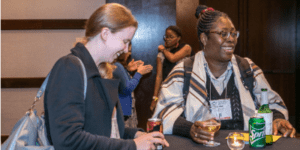 Big news! We know this has been a difficult year for many in our community, and we all need to engage with our colleagues now more than ever. To ensure that our members are able to stay connected to the Society and participate in the many offerings of ASHG, we are announcing that:
All 2020 ASHG members who register for this fall's annual meeting will also receive 50% off their 2021 membership dues! This is on top of the vast savings already being offered for this year's exciting virtual meeting!
Register to attend the ASHG 2020 Virtual Meeting
2020 members that register for the annual meeting will be sent a discount code towards 2021 dues later this year.
That's it! Register for ASHG 2020 today and you'll automatically receive a discount code for your 2021 membership, which gives you another full year of online access to AJHG, publishing discounts in AJHG and HGG Advances, steep member discounts for the 2021 Annual Meeting, access to a multitude of career development content and other webinars, leadership opportunities, policy resources, and so much more.
So what are you waiting for? Register today!