Written by Burcu Darst, ASHG Training and Development Committee Member, Nascent Transcript Lead
November 2018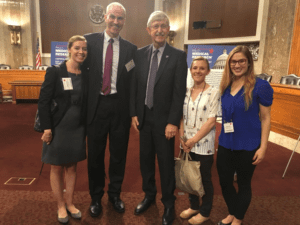 The 2018 Rally for Medical Research took place on September 12-13 in Washington, D.C., in the midst of the fiscal year 2019 budget negotiations for the U.S. National Institutes of Health (NIH). As representatives of ASHG trainees, Lauren Tindale, PhD, chair of ASHG's Training & Development Committee and I, joined about 270 researchers, lobbyists, and patients to advocate for increased NIH funding at the Rally for Medical Research. This Capitol Hill Day event was founded and organized by the American Association for Cancer Research with the goal of conveying to policymakers how crucial NIH funding is for the of advancement medical research and the health of our nation.
As first-time attendees of a Capitol Hill Day event, Lauren and I weren't quite sure what to expect in the days leading up to it. Fortunately, no prior experience is necessary to attend these rallies, as a training session is held the day before. The training session began with inspirational messages from Kathy Siggins, an advocate from the Alzheimer's Association who has raised NIH funds for Alzheimer's disease through a stamp suggestion to the U.S. Postal Service, and Maryland Representative Jamie Raskin. The organizers of the Rally then went over in detail what to expect and the primary message of the 2018 Rally: conveying to U.S. Senators and Representatives the importance of increasing the NIH budget by the then-Senate proposed $2 billion of additional funds, as opposed to the House proposed $1 billion of additional funds.
We communicated this message through our own personal stories, whether from a patient's or researcher's perspective. To ensure these messages were succinct and accessible, and that they properly conveyed the impact of the NIH, the training session included practicing our one to two-minute stories with each other. Researchers are typically aware of the importance of communicating with the general public, but we rarely discuss the importance of communicating with legislators–a task that has the potential to impact the future of medical research in the U.S.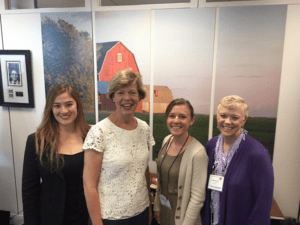 That evening, the Rally hosted a reception, where we heard from Congress members Roy Blunt (Senator-Missouri), Patty Murray (Senator-Washington), and Kevin Yoder (Representative-Kansas). The highlight of the evening for me was hearing from NIH Director Francis Collins. The messages delivered by each were full of inspiration and hope for the future of our nation's health. Among the topics discussed, one recurring theme was the importance of investing in young investigators–our "brain trust", as Francis Collins has put it–one of the most important resources of our nation.
On the day of the Rally, we were grouped according to states and districts. We decided that our ASHG team, which consisted of Lauren; Derek Scholes, PhD, ASHG Senior Director of Policy and Advocacy; and myself, would stick together and represent Wisconsin, where I recently completed graduate school. Our agenda included meetings on Capitol Hill with the staff of four Wisconsin congress members: Senators Tammy Baldwin and Ron Johnson and Representatives Paul Ryan and Mark Pocan.
Each office offered very different experiences, from the state-themed décor and snacks to the interactions with staff members. One exceptional experience was our first meeting of the day in the office of Senator Baldwin, who we actually got to meet as she happened to be having her weekly "Constituent Coffee" hour. Her office was bustling with excitement from her constituents, who each had a story to share with her while they enjoyed coffee and kringles, a traditional Wisconsin pastry. Senator Baldwin sponsored the Next Generation Researchers Act, which aims to promote opportunities and earlier independence for young investigators, and seemed eager to hear our trainee perspectives.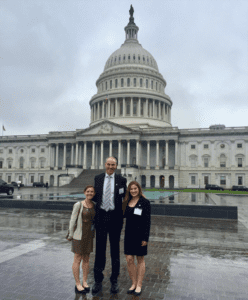 While our remaining appointments didn't involve kringles or meetings with the other Congress members whose offices we visited, we had some engaging conversations with staff members, who were very interested in speaking with us. Fortunately, medical research and the health of our nation is a bipartisan issue and, as such, most Democratic and Republican Congress members support NIH research, which could be why our messages tended to be well received. By the end of the day, the House of Representatives and Senate approved the spending bill that included the $2 billion increase to the NIH budget, totaling $39.1 billion for NIH fiscal year 2019, which was signed into law a couple weeks later by the President.
If you're interested in attending a Hill Day, particularly the Rally for Medical Research, all you have to do is register on their website to attend in the fall. You don't need to be politically-inclined or an expert about our government's finances; if you have a passion for your research and a desire to improve the resources available for medical research, you're ready to attend the Rally for Medical Research.
Want to have your voice heard, but don't have the means to attend a Hill Day? Most universities have an Office of Government Relations that might offer funding to attend these events or other opportunities to get involved with your local government. If this isn't an option at your institute or you don't have the time to attend a Hill Day, get in touch with your Congress members directly by calling or emailing them. ASHG has facilitated this process by developing a tool that enables you to contact your local Congress members on science-related issues. Talking to your representatives is one of the most effective things you can do to advance medical research in our country.
To stay up to date on science policy and advocacy issues, visit ASHG's Advocacy Center and become an ASHG advocate!