Media Contact:
Nalini Padmanabhan
ASHG Communications Manager
301.634.7346
press@ashg.org
For Immediate Release
Thursday, September 1, 2016
12:00 p.m. U.S. Eastern Time
BETHESDA, MD – The American Society of Human Genetics (ASHG) is pleased to welcome the 2016-2017 ASHG-National Human Genome Research Institute (NHGRI) Fellows in Genetics & Public Policy and Genetics & Education. Christa L. Wagner, PhD, the new Genetics & Public Policy Fellow; and Teresa Ramirez, PhD, the new Genetics & Education Fellow, will begin their 16-month positions on September 1, 2016.
Dr. Wagner recently completed her PhD at the Johns Hopkins University School of Medicine in the fields of genetics and immunology. Her research focused on immunodeficiencies arising in short telomere syndromes, the most common group of premature aging disorders.
"By studying these diseases from both the laboratory bench and the perspective of patients with whom I have been fortunate to interact, I have developed a growing interest in the intersection of genetics and healthcare policy," Dr. Wagner said.
She explored these policy interests at the Ovarian Cancer National Alliance, where she disseminated health coverage data to state policymakers and advocated for the development of improved, equitable healthcare systems for women. Dr. Wagner is currently most interested in fostering collaborations in genetics to generate accurate, well-understood genomic data about patients in a way that protects patient and family rights and improves health.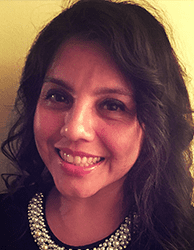 Dr. Ramirez was most recently a postdoctoral research fellow at the National Institute on Alcohol Abuse and Alcoholism, a position that included improving public awareness of the chronic effects of excessive alcohol consumption and finding ways to prevent alcoholic liver disease. She completed her PhD in molecular pharmacology and physiology at Brown University in 2013, which included research on the genetics of alcohol abuse and associated damage to liver cells.
In addition to her genetics background, Dr. Ramirez has considerable experience in community outreach and education. She participated in the science education subgroup of the National Institutes of Health Science Policy Discussion Group, which focused on educating the general public about science. She has mentored students at all levels, across the country, to encourage them to pursue careers in the sciences. She has also mentored middle-school students through Latinas Leading Tomorrow, an organization that encourages girls to think of themselves as scientists.
"Scientific mentoring and community outreach have been my most fulfilling and important activities outside of work," Dr. Ramirez said. "It is my intention to use my biology background to develop and implement new initiatives that will help increase diversity and the number of students in the fields of Science, Technology, Engineering, and Mathematics (STEM)."
Both fellowships include rotations at ASHG and NHGRI headquarters in Bethesda. In addition, the Genetics & Public Policy Fellowship includes a rotation in a congressional office on Capitol Hill in Washington, DC, and the Genetics & Education Fellowship includes a third rotation in an organization of the fellow's interest.
About the American Society of Human Genetics (ASHG)
Founded in 1948, the American Society of Human Genetics is the primary professional membership organization for human genetics specialists worldwide. Its nearly 8,000 members include researchers, academicians, clinicians, laboratory practice professionals, genetic counselors, nurses, and others with an interest in human genetics. The Society serves scientists, health professionals, and the public by providing forums to: (1) share research results through the ASHG Annual Meeting and in The American Journal of Human Genetics; (2) advance genetic research by advocating for research support; (3) educate current and future genetics professionals, health care providers, advocates, policymakers, educators, students, and the public about all aspects of human genetics; and (4) promote genetic services and support responsible social and scientific policies. For more information, visit: http://www.ashg.org.
9650 Rockville Pike | Bethesda, MD 20814 | 301.634.7300 | society@ashg.org | www.ashg.org
Connect with ASHG on Twitter (@GeneticsSociety) | Facebook | LinkedIn