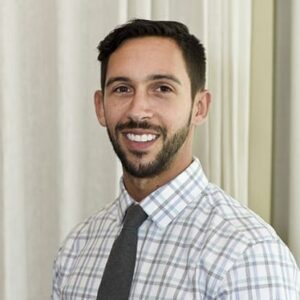 Trainee Author: Joseph Alaimo, PhD
Postdoctoral Fellow
Baylor College of Medicine
(Photo courtesy Dr. Alaimo)
Joseph T. Alaimo et al. Copy number loss upstream of RAI1uncovers gene expression regulatory region that may impact Potocki-Lupski syndrome diagnosis. Molecular Cytogenetics, 8:75, (2015).
This paper uses a case study to argue for functional identification of chromosomal structural abnormalities, and uses ENCODE data integration as an example of the utility and importance of this goal.
ASHG: Could you describe your research for us?
Dr. Alaimo: My research is focused on discerning the multifaceted cellular defects that contribute to the pathogenesis of neurodevelopmental disorders. To dissect these defects, we utilize a unique approach including deep assessment of patient phenotype, clinical genetic testing to identify underlying genetic contributions to these features, and combinatorial functional omics (transcriptome, metabolome, etc.) to uncover the pathological cellular states that result from these genetic changes. The overall goal of this integrative approach is to pinpoint viable targets for therapeutic interventions.
ASHG: What are your career goals?
Dr. Alaimo: My current goals are to complete ABMGG clinical molecular genetics laboratory training and continue my research dedicated to neurodevelopmental disorders. My ultimate career goal is to enjoy a hybrid position that involves directing a diagnostic laboratory while also performing functional studies dedicated to improving and expanding the identification of pathological genomic variants by leveraging the above research paradigm.
ASHG: Why did you choose genetics as your field of study?
Dr. Alaimo: I chose to focus on genetics largely because of its practicality. Since starting my educational journey, this concept has become more and more ingrained every step of the way. I must say, it is truly fascinating to understand how genes can influence the function of a cell.
ASHG: Describe yourself in three words.
Dr. Alaimo: Jovial, thoughtful, motivated.
The Trainee Paper Spotlight highlights outstanding papers written by trainee members of ASHG.  Submit your science to be featured, and join the ASHG Trainee Forum to keep up with new ones.